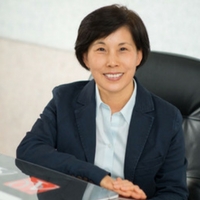 EDUCATION
M.F.A. Tyler School of Art, Philadelphia, PA
B.F.A. Seoul National University, Seoul, South Korea
AREAS OF EXPERTISE
Professor Yoon's expertise is logo & corporate identity, book design and poster.
PREVIOUS EXPERIENCE
Professor Yoon began teaching at JMU in 1988. Before coming to JMU, she worked as an advertising and publication designer for the Valley Nine Scotch Whiskey Company, and worked as a graphic and package designer for the Korea-Coty Cosmetics in Seoul, Korea. Besides teaching at JMU, she has been a freelance designer with her design studio, Seran Design, since 1988.
PROFESSIONAL AFFILIATIONS
Professor Yoon is a member of the Washington Chapter of the American Institute of Graphic Arts (AIGA), the Art Directors Club of Metropolitan Washington (ADCMW), and the Korean-American University Professors Association (KAUP).
SCHOLARSHIP
Professor Yoon received a Fulbright Senior Scholar Grant to do research on "The Street Graphics of Seoul, Korea: A Culturally-focused Contribution to the Study of Urban Graphics" for the Fall 2007 semester. She also received a grant for studying Asian Brush Painting in 2003, research grants for Asian decorative design in 1992, and for innovation in illustration using computer graphics in 1990 from James Madison University.
HONORS AND AWARDS
Professor Yoon has received numerous certificates for Design Excellence from American Institute of Graphic Arts (AIGA), Art Directors Club of Metropolitan Washington (ADCMW), American Corporate Identity, and PRINT. Professor Yoon has published design works in "Graphis Design", "Graphis Logo", "Graphic Design USA", "American Corporate Identity", "The Big Book of Logos", and "PRINT's Annual". Her recent design works selected for publication include a logo & complete identity for the Lakeview Golf Club in 2007, and a logo for the College of Visual and Performing Arts at JMU in 2006. Professor Yoon had her Solo Graphic Design Exhibition at Eastern Mennonite University's Hartzler Gallery in September 2005. Her JMU Undergraduate Catalog 1999-2000 Cover was selected for publication in "Creativity Annual". She exhibited her design works nationally and internationally including "AIGA 50 Sixth Biennial" and "ADCMW Annual Show" in Washington, D.C., AIGA "Maximum Message/Minimum Means" in New York, "National Computer Art Traveling Show", "Montréal International Spring Art Competition" in Canada, "Frankfurt Book Show" in Germany and "Osaka International Design Competition" in Japan. She also has collections in Columbia University, NY and Frankfurt Book Fair, Germany.
UNIVERSITY AND PROFESSIONAL SERVICE
Professor Yoon served on the Honors and Awards Committee and Assessment Committee in SADAH.