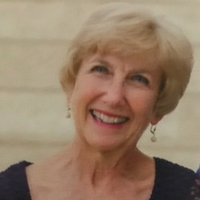 CHRISTINA UPDIKE – Staff Emerita
Visual Resources Specialist: September 1, 1974 – June 30, 2012
Christina was a classified staff member at James Madison University employed 38 years as the Visual Resources Specialist for the School of Art, Design, and Art History. 
Prior to employment, she earned a B.S. in Art with teaching certification from Madison College in 1973, followed by 33 hours of Post-Baccalaureate course work at JMU.  As the Visual Resources Specialist, Christina was responsible for the complete administration and development of the visual resources collections, beginning with a slide collection and ending with a growing digital image database of approximately 67,500+ images housed in the MDID3 teaching and learning system, a collection of approximately 90,000 slides, 15,000 study prints, videotapes, laserdisks, and CD-ROMs.  She supervised a staff of one part-time assistant and 3-4 student assistants (both undergraduate and graduate).  Her responsibilities included policymaking and implementation of procedures to facilitate the instruction of art and culture in accordance with the University's mission and goals.  This included problem solving, evaluation, planning, analysis, image collection development and organization, authority control, budget preparation and management; long-range planning; collection development including acquisition of images, supplies and equipment, cataloging, scanning and copy photography; database design; grant writing; patron assistance and training, and research.
PROFESSIONAL AFFILIATIONS
Christina still maintains her memberships in the Visual Resources Association (VRA), the Southeastern College Art Conference (SECAC), the VRA Mid-Atlantic Chapter, the American Association of University Women (AAUW), and the local Central Shenandoah Arts Association (now the Spitzer Art Center).  In 1995 she was a workshop participant at the Visual Resources Studies in Photographic History and Digital Imaging held in St. Andrews, Scotland.  In 1996 she was a presenter in a workshop for the Visual Resources Association's satellite program at the XXIXth International Congress of the History of Art held in Amsterdam, The Netherlands.  She was an Instructor at the 2004 and 2005 sessions of the VRA/ARLIS Summer Educational Institute for Visual Resources and Image Management, co-leading a workshop entitled "Strategies for Transitioning to the Age of Digital Media."
HONORS AND AWARDS
In 1994 and again in 1999, Christina received the Staff Recognition Award from JMU's College of Arts and Letters to acknowledge her exemplary service to the School, College and University community. In 1997, she was honored with the VRA's Distinguished Service Award in recognition of her long term service to the field of visual resources, as well as her many contributions to her affiliated organizations, institutions and community.  In 2003, she received the VRA Nancy DeLaurier Achievement Award in recognition of her outstanding contribution to the profession by developing and freely sharing the Madison Digital Image Database (MDID). In 1994, she received a Certificate of Appreciation from the Visual Resources Association for serving 1991-94 as President Elect/President/Past President. She has also received Certificates of Appreciation from the VRA for serving as Treasurer for 1986-90, as chair of the Travel Awards Committee for 1997-99, and chair of the Distinguished Service Award Committee for 2000-01. In 2002 she received a Recognition Award from the VRA Executive Board for founding the SECAC Visual Resources Curators affiliate group and serving as its chair for 25 years.  In October 2004, she was presented the James Madison Distinguished Service Award by the JMU Alumni Association.
SCHOLARSHIP AND GRANTS
Christina has had articles for SECAC VRC affiliate group activities published in the VRA Bulletin since 1978, Art Documentation since 1978, and the SECAC Review since 1984. She co-authored with Sarah E. Cheverton a VRA Special Bulletin No. 14, "Strategies for Transitioning to the Age of Digital Media," Visual Resources Association, 2005, 81 pages with accompanying CD.
She published two articles in the VRA Bulletin: one in the fall 2001 special issue on professional issues in visual resources, Vol. 28, #3, pp. 26-29, entitled "Elevating Professional Status: A Case History at James Madison University" and in fall 2002, Vol. 29, #3, pp.42-46, entitled "Collaborations Lead to Success—Integrating Technology and Sharing a Resource: the Madison Digital Image Database."  She co-authored an article entitled "Integrating Digital Images into the Art and Art History Curriculum" published in EDUCAUSE Quarterly, Vol. 25, #2, April-June 2002 and reprinted in the Journal of Library Administration, Volume 39, Numbers 2/3, 2003, pp. 29-42, Haworth Press Inc.  Her article, "Integrating Digital Technology into Teaching: the MDID," was co-authored with Allison Rosen, IVS program assistant, published by ARLIS/UK and Ireland in the Art Libraries Journal, Volume 31, Number 3, 2006, pgs 32-36.
In 1997, she was a co-recipient of a $45,000 JMU technology mGrant to develop a digital image database for classroom teaching and student study of art history.  The Madison Digital Image Database has been used in teaching art and art history at JMU since fall semester 1998 and was made available on October 2, 2001 as a free download from the MDID website. In February 2003, JMU was a recipient of a $50,000 grant from The Andrew W. Mellon Foundation in support of further development of the MDID software. The grant was awarded in recognition of JMU's important efforts in the area of teaching and learning with digital images, and to support collaboration between MDID and ARTstor, an initiative of The Andrew W. Mellon Foundation.  She coordinated user services and assessment for JMU's participation in the ARTstor beta test conducted September 2003—June 2004.   In October 2006, the JMU Center for Instructional Technology received a National Leadership Grant award of $225,476 from the Institute of Museum and Library Services (IMLS), for the project titled "Making Connections: Linking MDID to Other Image Systems and Tools."  JMU staff researched and developed the means of allowing its Madison Digital Image Database (MDID) to be used by more educators and with different systems and tools. The results of this project, MDID3, was released in late 2011. The system allows users to access many more image collections and serves as a model for interoperability in image systems https://mdid.lib.jmu.edu/.
SERVICE
Professional and Community Service
On the international level, Christina was elected President Elect/President/Past President of the Visual Resources Association for the term 1991-94 and prior to that office, had been elected to serve as the VRA's Treasurer from 1986-90.  She chaired the VRA Travel Awards and Distinguished Service Award committees. She served on the VRA Special Task Force for Strategic Planning January 2002 – April 2003, and the ARTstor Collections Advisory Committee, both appointments made by the VRA President and reporting to the Executive Board.  She was invited to serve on the Research Libraries Group (RLG) Cultural Materials Advisory Group for Instructional Technology from August 2004—April 2005.  She was appointed to serve a two-year term on the VRA Foundation Board beginning March 2011.  Christina served as chair of the Visual Resources affiliate group for SECAC from 1977-2011.  From 1984-92, she was elected to serve as the Virginia representative on the SECAC Board of Directors.  Locally, she was elected to serve as a Director on the Board of the Rockingham Fine Arts Association for 1993-96 and then was appointed to serve on the Advisory Board of the Central Shenandoah Arts Association.  She served three terms as the Treasurer of the local Harrisonburg Branch of the American Association of University Women from 1993-99, was President of the Branch from 1989-91, served as Membership VP from 2000-03, and Programs Co-VP from 2013-15.
University Service
Christina chaired several University committees, such as the Commission on Community in 1994, the Employee Advisory Committee from 1998-2001, and the committee to plan the first annual Employee Appreciation Day held at JMU in May 1996.  JMU President Linwood Rose appointed her to serve on the Centennial Commission (1998-99), the Inauguration Committee (1999), and the Centennial Celebration Faculty/Staff Advisory committee (2005-06).  In 2009, she achieved 35-years of service to JMU and received her service award from President Rose in March 2010.  She was a member of the College Staff Advisory Committee from 1992-2012 and chaired it in 1997 and again in 2010-12.  She served as the Library/Media Liaison and the Publicity Liaison for the School of Art and Art History from 1975-2012.  In 1994-95 and again in 2004-05 she served on the Search Committee for hiring the new School Director.  She was appointed to serve on the Search Committee for hiring a new Associate Provost and Assistant Provost when the College of Arts and Letters was restructured in spring semester 1995.  She also served as JMU's College/University representative to the American Association of University Women from June 1999-June 2010.
SINCE RETIREMENT
Christina remains connected to the School and the University.  She and her husband, Phillip, established the "Beck Faculty Fellowship by Phillip and Christina Beck Updike" to honor her parents and have made a legacy commitment as Madison Foundation Society members.  They are active members of the JMU President's Council.  They were honored to be featured in the JMU Foundation's 2016 "Be the Change" calendar.
In 2014, Mrs. Updike was instrumental in establishing the JMU Staff Emeriti Association https://www.jmu.edu/staffemeriti/.  The organization provides an opportunity for Staff Emeriti to continue association with colleagues and to maintain ties to the University. The SEA is a professional and social organization that encourages the interaction of Staff Emeriti through a wide variety of activities. She currently serves as Chair of the SEA Steering Committee. The committee meets regularly to establish goals and plan events.  She is also an active member and occasional instructor of JMU's Lifelong Learning Institute. 
Christina volunteers regularly at the Wildlife Center of Virginia as a member of the Rehabilitation Team.  She is an avid golfer and plays in the Massanutten Ladies Golf League.  She and her husband are active JMU alums, attending many sports events, and trips.  They both love to travel.