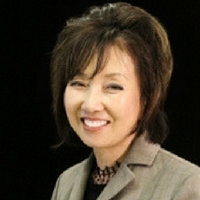 Education
M.F.A., Cranbrook Academy of Art, Bloomfield Hills, Mich.

M.F.A. and B.F.A., Ewha Womans University, Seoul, Korea
Areas of Expertise

Wheel throwing, handbuilding, molds making and slip casting, surface development, installation, portfolio development, graduate seminar, Korean Traditional Surface Techniques, onggis, 3D design
Previous Experience

Prior to 2007, Choi taught at Virginia Commonwealth University and at Ewha Womans University and Kangwon National University in Korea.  
Professional Affiliation

Choi is a member of the National Council on Education for the Ceramic Art, College Art Association, and Ewha Artists Association of Greater Washington. She is currently a board member of Cub Creek Foundation. 


Honors and Awards

Visual Arts Fellowships at Virginia Museum of Fine Arts
JMU's College of Visual and Performing Art Faculty Summer Research Grant
Artist in residence awards at European Ceramic Workcentre (the Netherlands), c.r.e.t.a.rome (Italy), Madelta International Artists in Residence, (Canada), Cowwarr Art Space (Australia), and A.I.R.Vallauris (France).
Service

Served as Ceramic Area Head since 2007 and on the Graduate Faculty since 2008
Served on the Honors and Award Committee, Faculty Search Committees, and Galleries Committee and chaired the Personnel Advisory Committee
Organized lectures and workshops of many visiting professionals and student trips
Board member of Cub Creek Foundation since 2010
Served as an American correspondent for Monthly Ceramic Art (Seoul, Korea) since 2008 and as columnist for The Korea Times, Washington, D.C. since 2005.
Scholarship

Selected solo exhibitions include:
Recollection 6, Saint Joseph's University, Philadelphia, Pa.
Recollection 5, Moraine Valley Community College, Palos Hills, Ill.
Recollection 4, The 621 Gallery, Tallahassee, Fla.
Wheels, Blue Ridge Community College, Weyers Cave, Va.
Soda Fired Onggis," Medalta in the Historic Clay District, Medicine Hat, Canada
Onggis and Accumulation, MK Gallery, McLean, Va.
Recollection 3, Sam Houston State University, Huntsville, Texas 
Groups shows: the Victoria & Albert Museum in London; Aqui Siam Ben Gallery, Vallauris, France; Gyeonggi Ceramic Museum, Gwangju-si, Korea; Museo Nacional de la Cerámica y Artes Suntuarias González Martí, Valencia, Spain; Crafts Council of Ireland, Kilkenny, Ireland; Taller Escuela de Cerámica de Muel, Zaragoza, Spain; Ormeau Baths Gallery, Belfast, U.K.; Daimler Chrysler Financial Services AG, Berlin, Germany; Taubman Museum of Art, Roanoke, Va.; Marianna Kistler Beach Museum of Art, Kansas State University, Manhattan, Kans.; Art Gallery, Kennesaw State University, Kennesaw, Ga., Jordan Schnitzer Museum of Art, University of Oregon, Eugene, Ore.;, Museum of Fine Arts, St. Petersburg, Fla.;, Montgomery Museum of Fine Arts, Montgomery, Ala.;, Mississippi Museum of Art, Jackson, Miss.;, Asian Art Museum, Chong-Moon Lee Center for Asian Art and Culture, San Francisco, Calif.; Honolulu Academy of Arts, Honolulu, Hawaii; Anchorage Museum of History and Art, Anchorage, Alaska; LaGrange Art Museum, LaGrange, Ga.; Montgomery College, Rockville, Md.; and Denison University, Granville, Ohio. 
Choi installed the permanent tile project "Morning Calm Korea," in the Sculpture Garden at Art Council of the Valley, Harrisonburg, Va.
Choi is also a prolific commentator on the field of ceramics, publishing more than 120 articles for the Korea Times in Washington, D.C. and Monthly Ceramic Art in Korea.