Alumni profile: Romina Sasia
Being a voice
What do you teach?
I'm a first-grade Spanish teacher in my third year in the dual immersion program. Right now, I teach Spanish language arts and science, and my teaching partner teaches math and language arts—both in English. Ideally, our classes are 50/50 English-speakers and those for whom English is not their first language.
How did JMU help prepare you?
I've had so many professors who were always willing to help and passionate about what they were doing, which in the end really has made all the difference for me.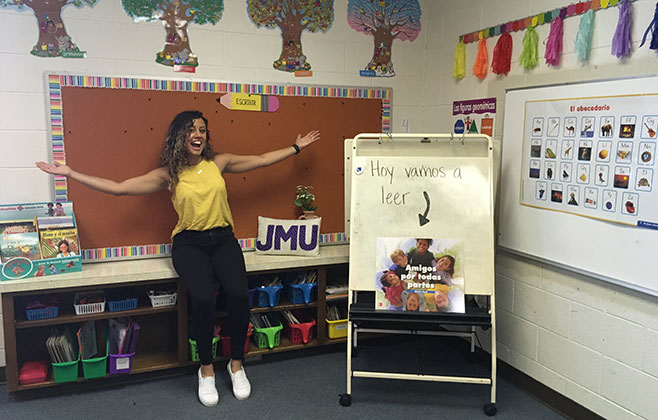 It sounds as if you feel like you were ready?
I mean, there is a long list of professors who have been willing to answer my questions with levels of depth that have helped me truly grasp those answers. JMU professors really care. I mean, they really want to help you understand the material in ways that can enrich your experience. Their help has definitely shaped my approach to my teaching and also my life.
Do you recall some specific examples?
Dr. John Almarode was one of the most exciting, passionate professors. He was just different. We learned about learning targets and I Can Statements, and he always made it so much fun. The class I had with him was so meaningful, so purposeful. I took what I learned in that class and have really put it directly into my own planning and my own career.
It sounds as if JMU's College of Education set you up.
I had so many impactful professors in my education classes. Dr. Aaron Bodle was a great social studies teacher. He is truly an advocate for all students, and he was always there and always so willing to help explain things in ways that everyone could understand.
Do you have a long-term career goal at this point?
I definitely want to be a voice and a leader in some aspect of education. I don't know what my calling is yet, but the dual program feels like if it might be something that I want to stay close to, I think. Maybe I'll end up as an instructional coach for the dual program. We don't have any instructional coaches here yet as far as the Spanish side of the program.
Your future sounds promising.
I'm taking classes in the teacher leadership certification program. It's relatively new at JMU. I'm not entirely sure what the future looks like for me, but I know that I want to help teachers in the same sorts of ways that I have been helped.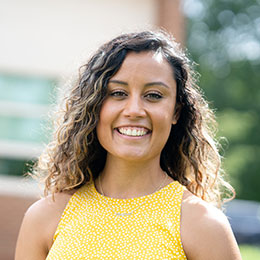 Romina Sasia
Major: Interdisciplinary Liberal Studies
Concentrations: Humanities; Social Sciences
Hometown: Harrisonburg, Virginia
High School: Spotswood High
Highlights: '17, '18M grad; teaches first graders in the dual language immersion program at Spotswood Elementary School in Harrisonburg; master's degree in Elementary Education from JMU in 2018; family moved to Harrisonburg from South America in 2002.