Helping others help themselves
Describe the Dance for Parkinson's group.
It's an international organization that teaches dance to people with Parkinson's disease. Mostly, it's about community and joy for them. There are all these studies about how Parkinson's symptoms can be helped through dance—the control of your muscles and facial expressions. That said, the primary purpose of Dance for Parkinson's is to create community among people with the disease and to help them think of themselves as dancers and those who are capable of this marvelous sense of expression.
Can you really see a change in the participants?
It's wonderful how they start to think of themselves as dancers, and their inhibitions go away. And sometimes their symptoms will get so much easier to handle in the moment because of the way they are thinking. Rather than thinking of walking across the room being hard for them, they're thinking, "Oh, I'm just going to dance and show everyone that I can do that."
"Working on the team with Dance for Parkinson's has truly been a wonderful experience. When you look at it all, it is a beautiful thing."
How did Dance for Parkinson's come about at JMU?
Dance professor Kate Trammell is the instigator. She wanted to create a chapter here and she was looking for musicians and a dancer. Someone submitted my name as a possible musician. We went to New York and got training, and we went to Toronto and got training in how to accompany and how to run the classes.
Is it only dance?
We've done music classes once in awhile, too. For example, I've been teaching participants how to play the ukulele and sing while they're doing that. You could feel the joy in the air.
On a personal level, what do you get out of it?
I've always loved community music and especially the idea of teaching adults things that they didn't think they could do anymore, so being able to show them that, yes, they actually can is so gratifying. Also, Dance for Parkinson's exists all over the world, so no matter where I end up, it's something that I can help with thanks to the certification that I got here. I just think that's pretty cool.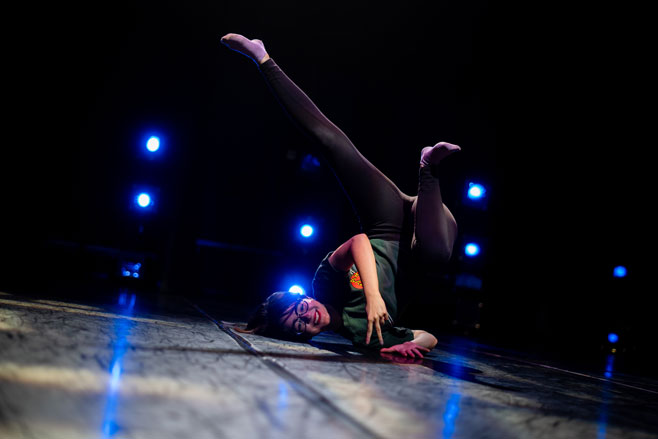 "I am a classical pianist who can break dance."
Anything else on the dance front?
I started an organization called Dance to Empower, a series of mostly hip-hop dance workshops for female survivors of assault and abuse and their allies. We've had six or seven classes on campus since April 2019 and we've had about 20 people come out. I've gotten great support from the JMU Center for Inclusive Music Engagement, and lots of other organizations on campus that serve these populations.
Where did you get the idea for this?
When we were in Toronto training for Dance for Parkinson's, a part of my brain was telling me that some form of a dance program like this could work for other populations too, and the more I thought through this, the more I realized that I should do everything I could be make this happen. And now it exists in the world.
Could you have imagined that dance would become such a part of your world?
I have found that dance has this really special ability to unite you with yourself, and to get you to believe that the self and the body are good, good things. It has been a big discovery for me, and I wanted to make that known to others, to have them experience this in similar ways as I have and I do.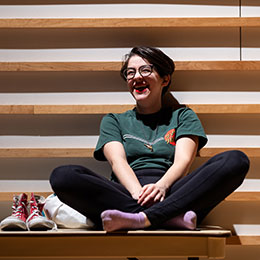 Abby Wiegand
Major: Music
Concentration: Music Education
Hometown: Syracuse, New York
High School: Baker High
Highlights: Instrument is piano; focus of her music education concentration is voice; became a break dancer after she came to JMU; studied abroad in Taiwan summer after her freshman year; has been an accompanist for several university choirs since second semester freshman year.