You are in the main content
About The JMU Theatre Program
Overview
The James Madison University Theatre program has a liberal arts orientation directed specifically toward undergraduate students. We have three basic emphases: instruction in the  theory and history of drama; instruction in the practice of theatre arts; and a full production program.
 The JMU Theatre program provides numerous benefits for its students including an ability to understand and express conceptual knowledge, an appreciation of the great works of theatre and an appreciation of the theatre as it permeates society in television, films, on the stage and in other daily activities. Training to work within a group toward a defined goal with a deadline is an integral part of the academic experience as well as training for a professional career and/or training for graduate-level theatre work.

Finally, we are proud of our commitment to provide artistic stimulation and cultural enrichment for JMU students, faculty, staff and the surrounding community.
The Bachelor of Arts Program 
The JMU School of Theatre and Dance offers theatre majors a Bachelor of Arts Degree. The course work includes performance techniques, business management, directing, scenic and costume design, technology, theatre and dance history and literary theory. 
Performance, Design, and Technical  Opportunities


JMU theatre sponsors four major productions each year in its main-stage season including the annual musical. As many as  twenty additional productions are mounted each year in the Experimental Theatre. The program also sponsors The Children's Playshop each summer.
 


JMU regularly participates in the American College Theatre Festival. Several JMU productions have been selected for regional competition and performers have done well in the individual acting phase of the competitions. Two recent productions played at the National Festival at the Kennedy Center in Washington, D.C.
Guest Artists
JMU regularly brings guest actors, directors and designers to campus. These professionals work with theatre students to help them examine fresh approaches to the field.
Student Success


We look with pride to alumni who are working on Broadway, in shows such asRent, The Full Monte, and Urinetown. Many theatre companies across the country including The Cincinnati Shakespeare Festival have been founded by JMU Graduates. Graduates of JMU have made a mark on Hollywood as well, as writers, performers, or technicians on films and TV shows including: Hoop Dreams, Legally Blonde, 10 Things I Hate About You, Caroline in the City,  The Honeymooners, Coupling, Cheers, & The Newhart Show 
Faculty


The JMU theatre faculty is made up of nine full-time members, all of whom play an active role in teaching and advising students in the realization of productions. All are active theatre practitioners who hold terminal degrees from fine institutions such as The Ohio State University, Carnegie Mellon University, Indiana University, the University of Nebraska at Lincoln, the University of Virginia, and Yale University. Their work is complemented by four full-time dance faculty members in the school. Four additional full-time staff members also assist in teaching and supervision. 
Facilities
Our brand new home in the Forbes Center features five performance venues and sumptuous space for preparation of productions and study in theatre and dance. This is truly one of the very finest performance centers in Virginia if not the nation.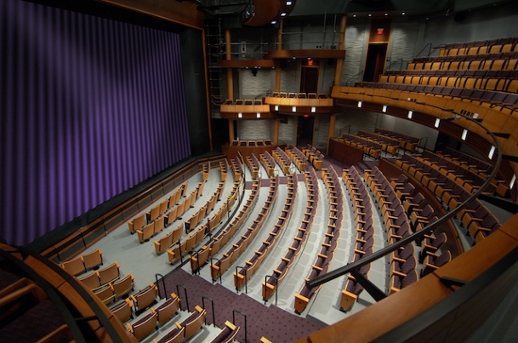 Stratford Players
Stratford Players is the student drama organization open to theatre and dance majors and non-majors. Members have a significant voice in play selection and budget decisions. 
Semester Abroad


Many theatre students take advantage of the JMU Semester-in-London Program where they are exposed to the rich theatrical traditions of London. Semester Abroad programs are also offered in Florence, Martinique, Paris and Salamanca.
Admission
Admission to theatre program at JMU is competitive and an audition is recommended. All prospective students must apply directly to the undergraduate admission office. The theatre program makes recommendations in the case of especially talented students. 
Program Objectives for the Theatre Concentration
Upon completion of the Theatre Program, the Theatre Student shall . . .
demonstrate proficiency in the collaborative process of theatre production, and exhibit the skills necessary to work within a group toward a defined goal under a deadline. Such skills include the ability to collaborate with other arts disciplines, including dance and music.

employ correct theatre terminology in all areas of theatrical production.

distinguish and describe various theatrical genre and staging formats, with strong proficiencies in one or more areas.

differentiate and characterize a variety of different styles of theatrical production, including non-traditional and non-western approaches.

discuss and analyze important works of dramatic literature from the past and present including works of criticism and theory as well as the reading list of plays.

identify and describe the important periods and movements in world theatre history, including the works of leading playwrights, actors, directors and designers.

 express the interrelationship between the live theatre and the existing and emerging technological media through which dramatic and performative pieces may be created and delivered.

formulate and communicate in writing informed critical assessments of theatrical performances, including all aspects of artistic and technical production.

comprehend and distinguish basic production processes to include acting, directing, design, technical production and management.

have participated regularly in public performances of various scales and styles. The student will have experienced a variety of different theatrical roles among the disciplines of acting, directing, design and theatrical production.

understand, distinguish, and describe the basic working practices of the professional theatre, including unions, professional expectations and employment opportunities.
---
Accredited institutional member of the National Association of Schools of Dance
Accredited institutional member of the National Association of Schools of Theatre