News
Camp UREC Talent Week Wrap-Up
---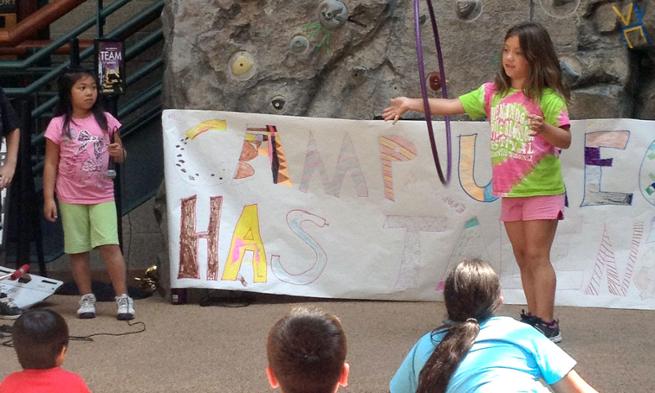 By Keala Mason
Talent Week was July 29-August 2 at UREC!
The staff of Camp UREC is comprised of both undergraduate and graduate students from JMU. Since Talent Week was the final week of camp this summer season, we thought we would ask our counselors about their experiences. We had a variety of personality types from different backgrounds who brought various strengths to the team! Each had their own responses as a wrap-up to the Camp UREC experience:
What is your favorite Camp UREC memory/moment this summer?
Nick: Olympic track relays.
Josh: The Safari Park and being on the truck and seeing the animals.
Eileen: The Olympic ceremonies.
Alison: When the kids had small successes (climbing to the top of the rock wall, for example)
Megan: Olympics Week with the double points!
Logan: Field trip to Luray caverns and the water games we did.
Emmanuel: Whenever we played soccer.
In 3-4 words, sum up advice that you would give to future Camp Counselors:
Nick: Sense of humor!
Josh: Get enough sleep.
Eileen: Bring enough lunch.
Alison: Stay flexible, be positive!
Megan: Have an open mind.
Logan: Always be flexible.
Emmanuel: Here for the kids.
Did you learn anything new about yourself or others this summer?
Nick: Program development and management.
Josh: More about how to approach and talk to kids.
Eileen: How to double Dutch!
Alison: Being more patient and learned a lot about myself.
Megan: How to fill 60 water balloons in 10 minutes.
Logan: How to communicate better with others and that it is different when you actually do it.
Emmanuel: I learned that my nickname could be "Mr. E!"
What can we learn from kids?
Nick: Being a businessman and learning to make trades at lunch.
Josh: How to have fun and learn about yourself.
Eileen: How quickly you can forgive and forget.
Alison: I like how kids don't dwell on things, they move on to the next fun thing.
Megan: Be creative & have a good time.
Logan: Don't take things so seriously!
Emmanuel: Be free spirited.
Any additional comments?
Nick: Indescribable experience has to be felt to be understood.
Josh: Definitely something to look back upon!
Eileen: Going to miss the kids!
Alison: Good experience overall.
Megan: Truly enjoyed my summer.
Logan: Camp UREC is the best!
Emmanuel: Went by fast.
Big thanks to the Camp Counselor team this season for your time, energy, and effort!
See all photos from Talent Week!
Learn more about Camp UREC and register your camper today!
Last Updated: Wednesday, July 4, 2018