You are in the main content
Camp UREC Around the World Week Wrap-Up
By Keala Mason
Camp UREC took a journey Around the World through the week of July 24-28, 2013! 
Camp highlights for the week included flag making, "Red, White & Blue Relays", smoothies, and our Friday field trip.  During our flag making competition, campers designed their very own flags for Camp UREC.  All flags were numbered and everyone had the chance to vote for the winning flag.  We had first place, second place and a tie for third place.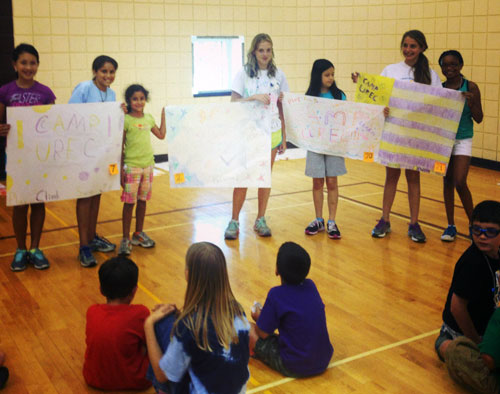 For the patriotic relay races, campers had to practice their teamwork, dashing back and forth with an American Flag, a red hat, and a patriotic button.  The winning team got to keep the beaded, silver necklaces on as their prize.  Nick, one of our counselors, showed the campers how to properly make a delicious, healthy smoothie.  Campers were given a taste-test to try to identify the secret ingredient…after finding out that spinach was included some of the campers couldn't believe it!
Each week, swimming in the UREC pool and climbing the rock wall are built into the schedule - something the campers and counselors look forward to each week. Other fun at camp included an outdoor scavenger hunt, cooking experience with the dining services chef, trivia, Around the World Arts & Crafts (including creating a "suitcase" to hold all works of art) and camp songs.   Our favorite camp songs this week were the Beaver Song and the Mr. Rob song.
Our Friday visit to the Frontier Culture Museum allowed campers to walk through and literally step back through time.  Exhibits included West Africa, Germany, America, Ireland and more! Campers had hands-on experiences of the cultures and practices of each country.  At the Hess Butterfly Farm, campers got to experience the "Wonder of the Butterflies", slide down a 50 ft slide on a burlap sack, interact with animals, and visit the Country Store.  There was also a carousel as well as various games that campers played.  Overall the week was a great success as we traveled Around the World!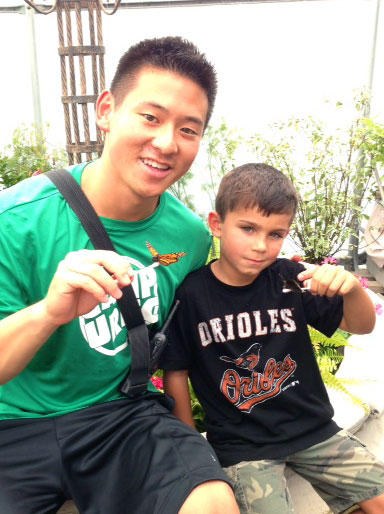 See all photos from Around the World Week!