You are in the main content
Camp UREC Mystery Week Wrap Up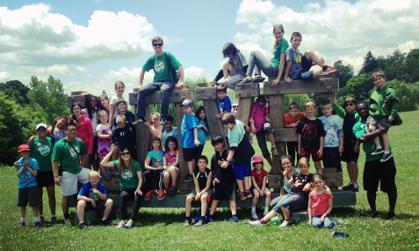 By Keala Mason
Let's play a guessing game.  What am I?
Designed for 6-12 year olds
Full of activity & fun!
Swim, Climb & Play is our motto
…The answer: CAMP UREC at James Madison University!
Mystery Week kicked off Camp UREC's summer 2013 season June 10-14, 2013.  Mia Constantin, age 10, says that Camp UREC's Mystery Week was "great because she likes spies and other things like that."  Mia's favorite activity from last week was the Spy Training session, specifically the laser-simulation (made of "pretend lasers") activity.  She learns all about friendships and enjoys summer camp because she "gets to see friends that (she) only sees in the summer." 
Other activities that the campers and counselors had a blast with were the mystery Mafia game, mystery paintings, invisible ink, making mystery pizzas at Festival Dining Services, playing with puzzles, expeditions like scavenger hunts through UREC, and a treasure hunt.  As always in our weekly programming, campers climbed the 33 ½ ft UREC rock wall, swam in the UREC pool and created their own masterpieces in our Arts & Crafts session. 
Our field trip to Luray Caverns and the Garden Maze at the end of the week was a fun-filled, educational session and clearly one of the highlights of the week.  Campers learned about the difference between stalactites and stalagmites.  Do you know the difference?
Mia exclaims: "Stalactites hang tight to the ceiling and stalagmites might grow from the floor to the ceiling." 
See all photos from Mystery Week!