You are in the main content
Year in Review: UREC Student Staff Leadership Series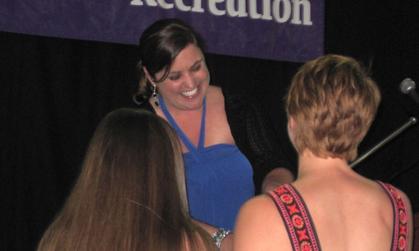 At UREC, we believe in developing UREC students at the beginning, during and at the end their time of employment at UREC. During student's time working at UREC, they have the opportunity to participate in voluntary (unpaid) professional development sessions sponsored by UREC.
Student Leadership Series topics are broad. Some topics include job searching skills ("Interviewing the Interview:  Aligning Your Values & Job Fit"), being more effective at work ("Learning Styles in the Workplace:  Communicating Your Message Effectively"), preparing for graduation ("Young Alumni Involvement – Keeping the U in JM") and a "Choose Your Own" opportunity to learn more about another educational program area of UREC.
In the 2012-13 academic school year, 128 individual student employees attended a total of 300 sessions.  That means 45% of our student employee population took advantage of at least one of these professional development opportunities.
UREC awarded "UREC Leader" certificates and pins (that represent a dedication to improving ones' self and UREC) to students who attended at least three session in one semester or four sessions in a year to 52 employees.  Two students, Heather Gately and Kandyce Hamilton, attended the most sessions with 7 each. Karen Kappert and Kelsey Gardner earned pins two years in a row. The Group Fitness staff earned the most pins (13) and the Informal Recreation staff had the most attendances per number of staff (48 attendances by 21 staff members).
The UREC Student Professional Development Committee looks forward to building the program even stronger next year with new achievement levels, fresh topic sessions, and a trophy.