BRO-ga: Yoga for Men a Success!
---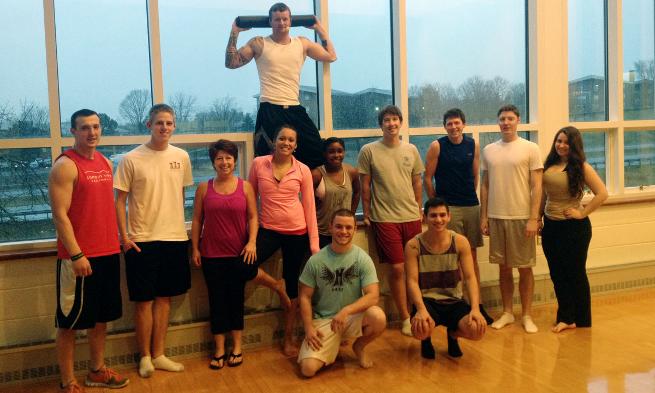 This Spring semester, UREC piloted a new group fitness class: Yoga for Men. All UREC classes are open to both sexes, but we found that our mind/body classes often had only one or two males regularly enrolling. This new class was designed with the male physique in mind – offering more challenging upper body work. Plus, we hoped more men would come if they knew other men would be there, too.
UREC's Yoga for Men Instructor Isaiah McFarland, a JMU Junior and certified Personal Trainer, said "I draw from the YogaFit format, but make it more challenging, like Power Yoga. This way we can accommodate people if it is their first class, or if they are coming regularly to help them build up their strength, flexibility and balance no matter their experience level. As a guy who lift weights regularly, I like that I can show other guys that you can incorporate yoga into your strength-building routine. I only started yoga a year ago, and it has increased my flexibility tremendously and have been able to do poses I never thought I could do. It was great to see how much the participants improved over the semester."
Turns out, it was a great success! Read some of the feedback we received from class regulars:
"Yoga for guys is an awesome class where you can feel free and carefree about being judged. It opens your body and your mind in a relaxing environment."
"Yoga for men has been a great way to get me in UREC several times a week. I have found it challenging, fun, as well as rewarding. Keep up BRO-ga!"
"Doing this class really helped me build upper body strength. I can do the crow!"
"It's called Yoga for Men, but I think it is good for girls, too. Don't be scared to get strong, ladies!"
"Yoga for Men is my new favorite group fitness class. It allows me to escape from my busy day for an hour while also getting a good workout!"
"I always feel great after a yoga class!"
"Really helps relieve stress and tension. Very relaxing."
Yoga for Men will be back next semester. We hope if you are interested in Yoga, that you will come out and try a class soon!
Learn about UREC Group Fitness now!
Published: Sunday, February 26, 2017
Last Updated: Sunday, February 26, 2017