Adventure: No Experience Necessary
---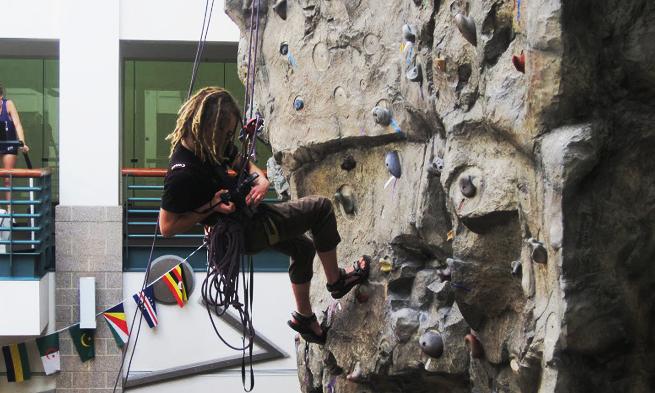 A lot of people approach the Adventure staff at the climbing wall saying things along the lines of, "What do I do if I've never climbed before?" or "Can I still climb?" And that answer is a resounding "YES!"
Outdoor adventure has been a notoriously hard field to access unless someone has family with a background in adventure, they attend an outdoor activities camp, or they're introduced to a sport via a convenient and cost-effective program that happens to be readily available to them. Fortunately for every single student at JMU, UREC Adventure happens to be that convenient and cost-effective program!
To shed some light on how UREC can be a fantastic gateway to the world of adventure around the Harrisonburg and Shenandoah Valley area, I'll give you my experience with UREC and the Adventure program.
A long, long time ago, meaning my freshman year, I took it upon myself to try out the rock wall in the UREC atrium. With little to no outdoor experience, save for a climbing wall at my elementary school's fun fair, I figured it'd be worth a shot. What started as climbing at the wall once or twice a week suddenly became climbing everyday.  Eventually, I was going on trips with friends I'd met at the wall that taught me the ropes (yes, that was a pun) and this ultimately culminated with a staff backpacking trip as I was hired with the Adventure program. Before the backpacking trip, I had never camped, let alone camped out of a backpack for 3 days while hiking 20 miles in the back country! To illustrate how much of a rookie I was, I even bought my first pair of hiking boots the week before the trip. Little did I know that there was so much more out there for me.
Today, I climb, hike, whitewater kayak, mountain bike, trail run, and have a love for adventure and the outdoors that will last me a lifetime. The icing on the cake is that I get to work for UREC's Adventure Program and introduce other students to this field. This entire whirlwind of activity happened over the course of two years, and sports that I thought seemingly impossible to enter suddenly became easier than ever through UREC. So go ahead and check out some of our programs, classes, or maybe just the rock wall.
You'll be amazed at where "little-to-no-experience" gets you.
Written by Erik Bailey, a JMU Kinesiology Student and UREC Adventure Specialist.
Learn about UREC Adventure now!
Published: Sunday, February 26, 2017
Last Updated: Sunday, February 26, 2017