University Recreation
Sport Club Spotlight: Gymnastics
---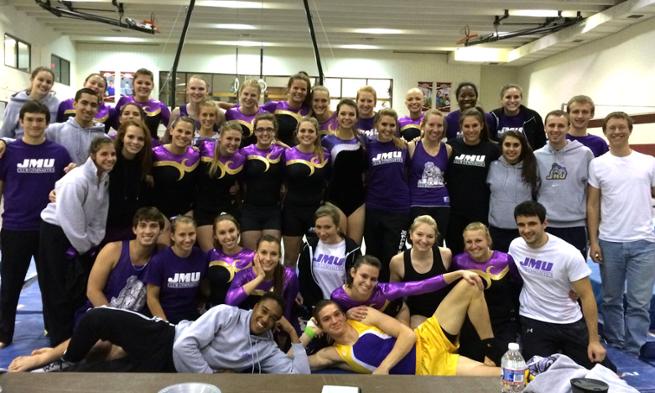 Spend a few minutes at a Club Gymnastics practice and it will be clear that this is a very diverse group of young men and women. Talent ranges from beginner to seasoned veteran, and the dynamic of practice constantly switches from light-hearted conversation to moments of intense focus in seamless fashion. Like many club teams at JMU, Club Gymnastics knows how to work hard and how to have fun doing it.
Vice President Drea Ewen was able to elaborate on the atmosphere in the Godwin gymnastics room. "I love JMU Club Gymnastics because we enjoy goofing around with each other and have fun at practice, but we also work really hard and have a competitive edge at meets. This amazing group of people is not only my team, but it is also my second family. I honestly could not imagine my JMU experience without this incredible team."
JMU's Club Gymnastics team will be hosting a meet in the Godwin main gym on Saturday, February 15th. The meet, called the Hugs and Kisses Classic because of its proximity to Valentine's Day, will feature teams including UMD, Emory, Miami Ohio, UVA, and Penn State. Although putting on a home meet is no easy task, especially for a sport with as much equipment as gymnastics, club members are up to the challenge and are looking forward to competing in front of their friends and family. To say thank you to all the supporters that attend, the team will be giving out free baked goods, drinks, and snacks. The famous JM(i <3)U t-shirts will be on sale for $10 as well.
The club sees this meet as an opportunity for new members to gain experience and for older members to get ready for the national tournament. From April 2nd to the 6th, Club Gymnastics will compete at Nationals in Chattanooga, Tennessee hosted by the National Association of Intercollegiate Gymnastics Clubs (NAIGC).
"With strong returning members and our new talent that just joined the team, I believe that we have a great chance of winning Nationals this years," Ewen stated. "Last year we placed second as a team which is the best we have done in the history of JMU Club Gymnastics, but we are not going to settle for runner up again this year."
Club Gymnastics is a student run organization, and all skill levels are welcome to come out and participate. Anyone hoping to experience the club is welcome to come out to practices, which are held in the Godwin gymnastics room from 7:00 - 9:00 PM, Sunday through Thursday. Feel free to email Drea at ewendl@dukes.jmu.edu for more information.
Last Updated: Wednesday, July 4, 2018