Hannah Pellegrino & Honors Class of 2017
The Honors Program at James Madison University is pleased to welcome 208 first year students as members of the 2017 Class of Honors Scholars. Members of the incoming JMU Honors freshman class were selected in the spring from a group of more than 1,200 applicants. Harrisonburg native Hannah Pellegrino was one of them. "Last year, I certainly didn't picture myself attending JMU," Pellegrino admits. "Yet here I am studying Psychology and Spanish, and I couldn't be happier."
'It's such a great location and a really cool community to grow up in.'
Pellegrino walked right across the street to come to college. Growing up in Harrisonburg gave her a unique familiarity with the campus, events, and some of the social aspects. "It's such a great location and a really cool community to grow up in," she says. "The quad was my playground, and the big rock sitting there – the 'Kissing Rock' – was my whale. I used to climb on top of it and pretend I was on a sea voyage.
A graduate of Eastern Mennonite High, Pellegrino served as class president her senior year and captain of the school's 2013 state champion soccer team. She was deeply involved in many other service groups and activities there, including the chapel planning and social committees, and the Christmas fund drive. An accomplished soprano, Pellegrino sang with a competitive touring choir and Virginia's District Chorus. Pellegrino also volunteered in the evenings, providing childcare to parenting classes for struggling families in the community. "I watched the kids while the parents went to class," she remembers. "It was very rewarding, but also eye-opening to see that, in my own community, there were people hurting."
Pellegrino joined a medical mission trip to Honduras, where she worked shoulder to shoulder with healthcare workers, soothing children as they had warts and other growths removed from their faces without anesthetic. Numerous times she's been to the slum of La Carpio, Costa Rica with her mother, helping a local woman develop a preschool program for children and teachers. "The entire slum is built on a landfill," Pellegrino says. "They are literally living on trash. It can seem hopeless from afar, but I got to see firsthand all the little pockets of hope."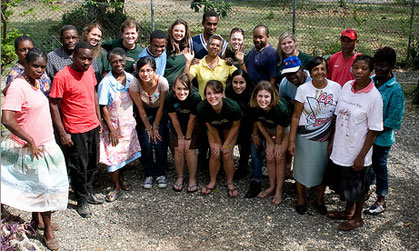 JMU students on an Alternative Spring Break trip in Jamaica. Pellegrino participated in service-learning trips like this in high school.
Pellegrino also participated in a school-led trip to Marantha School for the Deaf in Jamaica, where she learned that it was possible to harmonize musically without producing a single audible note. "We were doing worship with the kids at this school and it came time to sing," she recalls. "None of these kids can sing. But they can still express themselves through their hands. It was absolutely stunning. They were signing with incredible emotion, and as a wonderful ensemble." Pellegrino says she realized at that moment that everyone on the earth can be connected as a single people, and that building community, kinship, and relationships with others is one of the most important things we as humans can do.
A member of the Psychology Learning Community in Hoffman Hall, Pellegrino says she is fascinated with the developmental side of the field. "I did a senior research project on empathy in infants and young children. I'm interested in how children build relationships at a very early age, and how important those relationships become later in life." Hoffman residents are involved in field work at Western State Hospital in Staunton. "I've got such a community of support," she says. "My hall mates are fantastic. I'd like to branch out into other areas too, and really soak up as much as I can about all kinds of psychology."
Hannah Pellegrino lives and learns in the eco-friendly Hoffman Hall, home to Madison's learning communities.
Pellegrino advises other freshmen to be open to opportunities rather than decide well in advance precisely what they intend to do. "Don't have an agenda for yourself. Don't feel like you are going through a checklist of experiences or things you need to do or not be involved in. Push yourself to step out of your comfort zone and try things you wouldn't ordinarily try. Don't be afraid to ask questions. If you are lost, ask someone. I got totally lost in the bowels of Taylor Hall. People were excited to help me."
'My professors here really want to make me a better person, and care deeply about my education.'
Pellegrino warns classmates not to "get on such an academic track that they lose the value of learning" too. College, she says, is not all about getting grades and graduating to something better. "My professors here really want to make me a better person, and care deeply about my education. I'm going to continue to learn how to think and debate and talk about how the world works. It's a process that none of us should really rush." She notes that this is especially good advice for Honors students, who so often end up on a "speedway where the 'normal' feels behind and the 'advanced' feels normal." Pellegrino is a member of the National Honor Society, a Rotary Scholar for service, and one of JMU's prestigious Thomas and Karyn Dingledine Scholars.
It isn't all studying and volunteering for Pellegrino, however. She likes to hang out at Starbucks with her friends and watch movies back in the residence hall. "I've loved getting to know new people and build new friendships inside and outside of class."
Acceptance into the Honors Program comes with access to a unique curriculum, access to a living-learning community in Shenandoah Hall, a dedicated computing lab in Hillcrest House, special study abroad opportunities, and individualized faculty mentorship on an undergraduate senior research project. Honors students receive preparation for post-baccalaureate education and careers, and expand their horizons to all corners of the globe. A number of co-curricular activities supplement the in-class curriculum, including field trips, concerts, speakers, and other special events.