You are in the main content
2015 Summit Series: Cultivating the Globally Sustainable Self
            As our society continues to become more globalized, decisions impacting sustainability and environmental welfare have grown increasingly critical. It is imperative that these decision-makers possess a strong understanding of what it means to cultivate a globally sustainable way of living, knowing and being.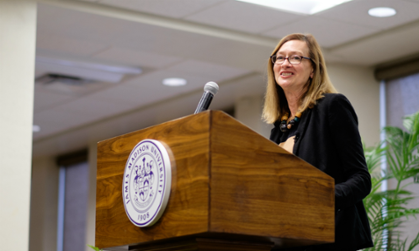 Dr. Theresa Harris
JMU launched a summit series on March 25th entitled, "Cultivating the Globally Sustainable Self". Faculty from the College of Educationplayed an integral part in the planning, developing and hosting of the summit series. COE Dean Phillip Wishon, Dr. Teresa Harris and Dr. Timothy Thomas all served on the summit's Steering Committee. Their primary responsibilities included collaborating with outside organizational representatives, inviting the summit participants, organizing the speakers, panels, and discussions, compiling associated readings and materials, and working closely with the Project Committee to coordinate processes, outcomes and establish a plan for achieving these goals within the summit's three year plan.
In addition to serving on the Steering Committee, these COE faculty members along with Learning, Technology, Leadership and Education (LTLE) professor Dr. Edward Brantmeier served as Summit Council members. Each of these faculty members were responsible for overseeing and carrying out the summit's goals and outcomes by actively engaging in the event's activities while maintaining collegial relations at a local, national, and international level.
Faculty, students, staff and administrators from various discipline areas within the JMU community, along with representatives from outside organizations were invited to attend the four-day summit. The Friday evening keynote address by Dr. Riane Eisler was also part of President Jonathan Alger's Madison Vision series. Speakers, panel presentations and group discussions allowed for these stakeholders to engage in conversation while sharing ideas on creating a learning environment that encourages sustainable behaviors. These events were intended to assist individuals in understanding why and how transformation of sustainable teaching occurs, for whom, and under what circumstances.
For more information regarding the summit's overview and rationale, goals, itinerary of events and outcomes, please visit http://www.jmu.edu/summitseries/index.shtml