You are in the main content
Student Volunteers Over Break: Bringing Water Solutions to Ghana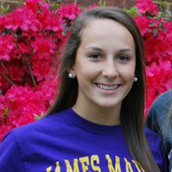 By: Daniel Vieth
While other students may choose to spend their winter breaks relaxing before the beginning of a new semester, Brittany Rieckmann has chosen to help others by lending her expertise to a great program and the people of Northern Ghana. "I am more than excited to be a part of this learning experience!" she exclaimed. "I am especially looking forward to learning about another culture, to see how other people live. I think this experience will help me see a different perspective on life as well as give me more appreciation for how I live." Rieckmann is a great example of how students at JMU can make an impact both locally and globally. 
According to the World Health Organization, waterborne diseases are the number one cause of illness and death in developing countries around the globe. Rieckmann has recently been selected to be a part of the Community Water Solutions' Fellowship Program. As a fellow of this initiative, Rieckmann will be traveling to Tamale, Ghana to help women in the community establish a sustainable system that will provide clean and affordable water for upwards of 1,000 people. "I have always had a passion for making a difference and supporting those less fortunate than me," Rieckmann explained. "This trip provides the added bonus of being able to combine my love of volunteering and engineering with experiencing a new culture!"In Africa alone, the lack of access to clean water results in the otherwise preventable deaths of nearly 700,000 people every year. The lack of resources also makes creating large scale water purification treatment systems unfeasible. Brittany Rieckmann, a freshman Engineering Student at JMU, has decided to help by spending her winter break in Ghana creating affordable and sustainable water purification systems.
Community Water Solutions (CWS) is a program that brings economical water treatment and home storage systems to the communities of Northern Ghana. In addition, CWS has also helped to establish local businesses that are designed to empower the women of Ghana by teaching them how to become successful and independent entrepreneurs. To date, CWS has launched 55 successful water treatment businesses, which are run by 110 women entrepreneurs serving over 30,000 people. These accomplishments would not have been possible without students like Rieckmann joining the CWS Fellowship Program.
The Fellowship Program acts as the groundwork team for CWS teaching and inspiring its members with philanthropic, leadership, and training experiences. According to the CWS website, the purpose of the fellowship is to educate its volunteers about the current global water crisis and inspire leadership, especially in the field of international development. "I decided this would be a good and challenging match for me," Rieckmann stated, "I couldn't resist applying!"
On the trip, Rieckmann will be working with a team of three other CWS fellows to both build the structures for the water storage tanks and provide training for the local women on how to properly manage the purification systems and sustain their businesses. "The trip will allow me to bring engineering skills out of the classroom and into the real world," Rieckmann explained. "A lot of engineering is about problem solving [and] the Fellowship will allow me to see how a team will work together to provide the best water solution for the village we are responsible for."
Community Water Solutions method for effectively treating the local water in Ghana, without the need for expensive drills or wells, involves adding alum and chlorine. These two chemicals help remove turbidity and disinfect the water respectively. The clean water is then stored in separate containers for each home, lessening the chances of cross contamination. "With the training provided by the CWS, the locals will become completely self-sufficient in treating all of their water by hand," Rieckmann continued. Her team will have to accomplish these feats within three weeks all while overcoming language barriers and other difficulties. "The actions that will be required of me while on the trip will in turn help me to grow as a person and as a leader."
Before Rieckmann can make the trip to Africa, however, she and the other CWS Fellows must raise $2,950 to cover the in-country expenses. She hopes to raise the funds online using Crowdrise. To help Rieckmann, raise the money for CWS, visit: (http://www.crowdrise.com/CWSolution/fundraiser/brittanyrieckmann )