A chance to discover
A Hillcrest Scholarship gave honors student Carly Starke ('14) a chance to be at the forefront of scientific research and discover her life's ambition
By Jan Gillis ('07)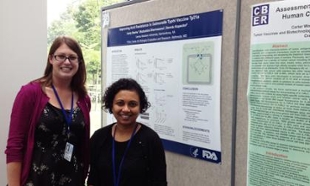 Carly Starke and FDA mentor Dr. Madushini Dharmasena pose in front of Starke's poster outlining her summer research on improving the typhoid vaccine. Starke credits her JMU professor and mentor Dr. Louise Temple and Dharmasena for helping her focus her career goals and research interests.
Carly Starke ('14) came to JMU with a solid idea of what she wanted to achieve. A high school internship with a pharmaceutical company had sparked her interest in vaccine development. "I knew I wanted a biotechnology career," she says, "and JMU's biotechnology program fit my interests." Another plus, she says was that JMU offered freshmen opportunities in research. She knew she could be working in a lab "right away."
Professors, mentors and the road to success
JMU professors are known for taking an active interest in their students' academic careers, using their personal and professional connections to guide students to success beyond graduation.
Starke shares her experience: "I had been working with Dr. Louise Temple as my adviser, and she encouraged her students to apply for the Hillcrest Scholarship. Part of the scholarship proposal work was contacting an agency and finding a suitable project to work on. It meant the agency had to predict what research would be ongoing two years hence," Starke says.
ISAT Assistant Professor Dr. Stephanie Stockwell, who works with Temple in the JMU lab, facilitated the difficult task. "Dr. Stockwell had done graduate work with Dr. Madushini Dharmasena at the Food and Drug Administration," Starke says. Stockwell helped Starke make a connection to Dharmasena, which resulted in Starke's summer experience at FDA working on the typhoid vaccine.
"My experience was better than what I expected!" Starke says. "Everyday I was excited to get to work, telling myself, 'I can't wait to do this!'"
She says Dharmasena reinforced many of Temple's recommendations as to what direction she might choose for her future: "She gave me advice on the grad school application process, where to apply and programs to look at. She helped me understand all my options by explaining what's out there and where you can go," she says. As a result, "I want a Ph.D., probably in immunology," Starke says, "I'm focusing my selection on three schools."
Mentorship goes beyond labs and classrooms. "Dr. Temple has been there since day one, and the people I met in that class are still my friends today. She has had us over to her house; we've gone to conferences together; she has taken us on hikes," Starke says. "She has done everything to encourage me."
The end of Starke's undergraduate career is looming, but she feels she's made a connection to Temple for life. "I know she's always going to be there even after JMU. I'll be able to call her up and share what I'm doing to get advice," she says.
"She's more than a professor."
It's proven a good choice.
As anticipated, she began her first year at Madison doing research with integrated science and technology professor Louise Temple. "The class that started it all was viral discovery, hands-on research geared to freshmen. It's not like other biology classes where you do routine projects. Each day everyone was doing their own research," she says. "Dr. Temple has been there for me since day one, and the people I met in that freshman class are still my friends today," she says. "She has done everything to encourage me."
One of those points of encouragement was Temple's recommendation that Starke apply for a Hillcrest Scholarship. Awarded to sophomore honors students, the scholarships support an off-campus summer enrichment experience that complements classroom learning. Recipients develop and refine the project of their choice with a faculty mentor throughout their junior year and implement the project during the summer between their third and final undergraduate year. Under Temple's guidance, Starke applied for and won a Hillcrest Scholarship for Research.
Already familiar with pharmaceutical research and having experienced research in an academic environment at JMU, Starke wanted to use the scholarship to supply a missing element to her experience. "I wanted to see what government research would be like," she says. Her off-campus summer experience was working at the Food and Drug Administration on the development of a new typhoid vaccine.
"At FDA I got the basic science that academia provides but on a huge scale with many more opportunities than would be possible at a university," she says. And, unlike pharmaceutical work, which is often repetitive, "Every day was different at the FDA," she says. "I could look at my results and change conditions of my research the next day to see what would work."
Her scholarship experience gave her a chance to be at the forefront of discovery, and she realized she had a passion for basic research. "I love finding what no one else has discovered," she says.
As part of the experience, Starke was one of approximately 700 presenters at a National Institutes of Health poster session where she shared her findings with other scientists and researchers. "I talked to scientists who I look up to," she says. "They were interested in what I did, how I conducted my research and my findings. One scientist working on an influenza vaccine came up and asked me about my process saying that it might help them improve their process."
It was an empowering experience. The very people whose research she had read and studied in her academic career acknowledged her as a colleague. "I had the opportunity to work with and share research results with them," she says.
As Starke looks to her future, she sees a real benefit in remaining in government research. "You have a better opportunity to publish in this environment. You get to share your knowledge. ... I enjoy putting out the work I do and getting feedback from other researchers. It informs where you can take your research. "
Her experience in government research also helped inform where she wants to take herself. "In the future I know I want to be in the lab working on vaccine development," Starke says. "I enjoy the molecular biology aspect of it, as well as testing out conditions."
What could her future in vaccine development hold? "I think we'll see science enhancing, improving and gaining more knowledge about what we use now," she says. "Take influenza. A large concern today is that influenza strains undergo frequent rearrangement of genetic strains with the potential of spreading disease that people have no immunization against. There's great concern of a potential pandemic," Starke says. "Today, we have to create a new influenza vaccine year after year. In the future, we may be able to create a universal vaccine that would be able to protect against the influenza virus in totality."
There's no doubt that Starke knows her career direction. "The Hillcrest Scholarship gave me a chance to see what research in the real world was like. And, that's where I'm headed now. I'm planning on going into government research at the FDA, NIH or the Centers for Disease Control."
Starke has outlined a great beginning for her future, but she's not thinking small. "My ultimate goal is a Nobel Prize. I know it's a big goal, but I can push myself toward it."