You are in the main content
A winning combo
Student-athletes compete in the top level of JMU academics
By Meaghan MacDonald ('13)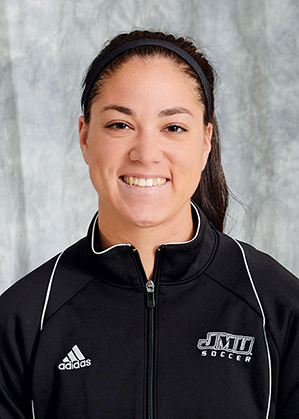 Up Close
Shannon Rano ('15)
Political science
Soccer
College Soccer Madness All-CAA Second Team
Top Drawer Soccer Top 20 Players in CAA (#17)
College Sports Madness Preseason All-CAA Second Team
CAA Commissioners Academic Award
JMU Athletic Director Scholar Athlete
Embracing the highest values of sportsmanship and competition has benefits that extend far beyond the playing field. JMU student-athletes are supported in maintaining a balance between academic scholarship and varsity team demands.
JMU faculty members encourage student-athletes to balance competition with respect, victory with honor and contest with scholarship, and to channel the character-building power of athletics performance into a force for positive change.
JMU President Jonathan R. Alger says that during his "Why Madison?" Presidential Listening Tour many student-athletes told him that they chose JMU because of the academic program. "It is reassuring how much Madison student-athletes truly want to excel as students—in academics and organizations outside of their sport—despite the challenges of a rigorous athletics schedule," Alger says. "Their priorities are in the right place and align with the JMU philosophy that intercollegiate athletics are integrated into the overall educational mission."
A number of JMU's varsity athletes are taking their academic winning spirit to the next level as members of the JMU Honors Program. To maintain status in the JMU Honors Program, a student must maintain a 3.25 GPA and take at least one honors-level course each semester.
Rising junior Shannon Rano ('15) of Branchburg, N.J., answered a few questions for Madison magazine about the challenges and joys of being an honors student-athlete.
Madison: What made you want to join the JMU Honors Program?
Rano: I always put my academics first, even before soccer. I have worked hard throughout my life to achieve my academic status. Because I wanted to maintain my scholastic reputation, I applied for the Honors Program. I knew it could be more demanding playing a sport and being a member of the Honors Program, but I have always been one to embrace challenges rather than avoid them. Although I knew it might at times be a challenge to balance the Honors Program and soccer, I know I can handle the extra work. I did not hesitate to apply.
Madison: How nervous were you coming to JMU knowing that you were going to play a varsity sport and be an honors student-athlete?
Rano: I was a little nervous. I knew it would be challenging at times, but because I have dealt with those challenges of balancing academics and soccer in high school I had a pretty good idea of how to do it in college. I am able to keep myself motivated to do well in school all the time and that motivation helps me balance my time. So, even though I was a little nervous about my newfound independence—along with the high-level classes—I was prepared to work hard to succeed.
Madison: Since you have made the Honors Program commitment, what are you most proud of?
Rano: I am extremely proud of myself for all that I have achieved so far in soccer and academics. With each grade I receive, an intrinsic sense of pride and satisfaction washes over me because I know the extra efforts I exert. Even if I am exhausted from my busy schedule, I know my efforts are not in vain. They help me get what I am striving for—excelling grades and an excellent education. On the soccer field, I give 100 percent at all times because it feels good to contribute to the success of the team. Overall, it makes me feel worthy to be excelling in the two most important aspects of my life.