This page is part of the campus environmental stewardship tour. To return to the tour, which includes a map and descriptions, please click here.
 GREEN SPACE
PHOTOS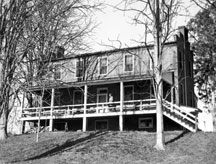 Photo of The Hooke House by JMU Photography.
TECHNICAL INFORMATION

We also invite you to learn more and to participate in JMU environmental stewardship efforts.
Please complete a form to request data or further information.
Office of Environmental Stewardship and Sustainability
800 South Main Street
Harrisonburg, VA 22807
Contact Us