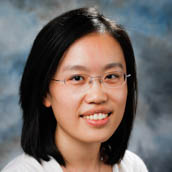 Ph.D. University of Texas
M.A. University of Texas
B.A. China Communication University
Before joining James Madison University, Nan Zheng studied journalism at University of Texas at Austin. Zheng's research focuses on two major themes: the impact of new media on global news communication and the economics of new media. She has published in Journalism & Mass Communication Quarterly, International Journal on Media Management, Journalism Studies, and Journal of Computer-Mediated Communication. She has received the Top Paper Award in the Newspaper Division and Creative Project Award in the Visual Communication division of AEJMC.
Beginning her career as an online journalist at the Website of the Beijing Olympic Games, Zheng has always been interested in work that combines the technology and journalism. Her teaching expertise includes multimedia reporting, Web publishing (HTML, CSS), photo editing (Photoshop) and slideshow.
Teaching interests: New media journalism, Web publishing, News writing and reporting
Research interests: Global media, Economics of new media