You are in the main content
JMU ROTC GROUPS
RANGER GROUP
The JMU Ranger Group works to enhance the technical, tactical, and physical skills of its members and accelerate the development of their leadership skills, enabling them to be the leaders of campus and non-campus based ROTC events and go on to serve as above average military officers.
Each Fall, the JMU Ranger Group participates in ROTC's 4th Brigade Ranger Challenge, which is open to all JMU ROTC cadets. Each Spring, the Ranger Group conducts extra training for those interested in joining the group.
 This year's Ranger Challenge Team Included:

cKnowles- Ranger Commander
cCaron- XO
cBrown- 1SG
cPlumley- Training SGT
cGaertner- S3
cGogdell- S1
cSeitz- S4
cMiller- S5
cChuckney
cMcCue
cWilson
cLucas
cSnyder
CANNON CREW
After JMU scores a touchdown, listen for the loud report from this Revolutionary War cannon replica. The cannon is a voluntarily manned by a group of JMU ROTC cadets during football games and other special events. The Cannon Crew learns the commands and functions of the equipment that is used during regular firing of the cannon. If you would like to be a part of the Cannon Crew, please contact the Cannon Crew Commander.
Participating in Cannon Crew is a great way for a cadet to develop leadership skills, discipline, and represent the JMU Duke Battalion. Cadets who volunteer are giving their time for the JMU Alumni, current students, and citizens of the Harrisonburg community who enjoy attending a JMU home football game.
Not a JMU Duke Battalion Cadet?  Still want to see the cannon in action? Come visit the Cannon Crew during regular season home football games! The Cannon Crew is located at the top of the Godwin steps, right off Bluestone Drive.
The JMU ROTC Department is grateful for the permanent loan of this cannon from Shirley McGatha, wife of the late Charles McGatha, a Korean War veteran.
 Cannon Specifications:
6 Pounder (Smoothbore) Revolutionary War Replica Cannon 
Napoleon Style Carriage 
Tube Length:  60 inches 
Tube Weight:  884 pounds 
Bore Diameter:  3.67 inches 
Range:  1520 yards 
Material:  Bronze
ARMY 10 MILER TEAM
The James Madison University Army ROTC program annually participates in the Army Ten Miler race, held in Washington D.C. Approximately 30,000 soldiers, retired personnel, family members, and ROTC Cadets run the race each year in support for Army soldiers and their families. The JMU Duke Battalion trains a team of dedicated runners to compete while showing their pride for our country and the soldiers who make sacrifices for the red, white, and blue.
Our Ten Miler Team began training in August for the October 9th race. While conducting physical training and running between 20 and 25 miles over 4 days a week, the team builds up their endurance and dedication for an event that means so much to veterans and soldiers. The event is much more than tying up your sneakers and hitting the road running. The support from one runner to another, along the 10-mile course, is unlike anything must Americans have ever experienced. The Army Ten Miler is a strong motivator to ROTC Cadets for the purpose of developing our leadership skills and serving our country.
If you would like to be a part of the 10 Miler team please contact c*********
SCABBARD AND BLADE
Scabbard and Blade is a joint service honor society for ROTC that was founded in 1904 at the University of Wisconsin. The society stands to strengthen cadets as officers in training and in the future, as well as to improve the relationship to the community through service and leadership. Members of Scabbard and Blade strive for excellence in all athletic and military endeavors. Scabbard and Blade is the nationally recognized military honor society afflilated with James Madison University. Through this club, cadets go through a semester-long candidancy class where they meet once a week to learn more about the Army, military skills, and what they can expect as young officers. Additionally, they participate in many exciting on- and off-campus activities such as caving, survival training, scuba diving, paintball, and firearms familiarizaiton. At the end of every semester, cadets take an exam to test their newfound knowledge and are then initiated into the society.
The chapter also organizes and completes a capstone community service project every semester. Scabbard and Blade is open to cadets of all MS classes.
COLOR GUARD
Color Guard is one of the most high-profile ROTC groups on campus. This group gives cadets the chance to demonstrate their abilities to perform more advanced facing and marching movements, as well as display our nation's colors in a honorable and dignified manner.

Color Guard members demonstrate their new found talents at home football games, home men's basketball games, and several memorials and ceremonies around Harrisonburg.
SIMULTANEOUS MEMBERSHIP PROGRAM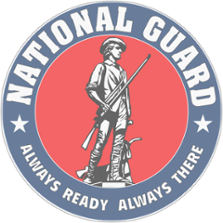 Students currently in the National Guard or Army Reserve may join ROTC as part of the Simultaneous Membership Program (SMP) after completing their freshman year and beginning their sophomore year at James Madison University, Blue Ridge Community College, or Bridgewater College.  Freshman and sophomore in the National Guard or Reserves can take the ROTC classes, but can not enter the SMP program until Fall of junior year.

Methods of joining:
Current National Guard or Reserve soldiers need only to sign an ROTC contract that enables to start the program at their unit and enroll in leadership classes here at JMU
New soldiers may either go to Basic Training first then contract with ROTC. (Basic training may not be required it you contract with ROTC right away). 
Here are some benefits of the SMP program:
You are non-deployable from the time you become a contracted SMP cadet until you graduate
You will be commissioned as a Second Lieutenant when you graduate
You will continue to receive Tuition Assistance which may cover the entire cost of your tuition at James Madison University
You can choose to stay in the US Army National Guard, or the US Army Reserves, or go on active duty and serve in the US Army once you graduate
You immediately begin receiving E-5 pay for drill weekends
You will receive a monthly ROTC stipend of $350-500 a month
Those who choose to complete Basic and Individual Training are eligible for Reserve component GI Bill at $333 monthly
For more information about SMP, contact SFC William R. Wineguard atwilliam.r.winegard@us.army.mil.