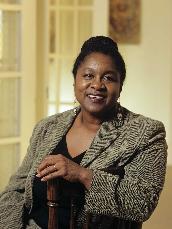 Dr. Joanne Gabbin Professor of English
Like the poetry she revels in, Joanne Gabbin radiates with the power to transform. Both of her pioneering Furious Flower Poetry conferences have advanced African-American poetry, celebrating beauty and achievement, and revealing pain and injustice. Hundreds of today's poet laureates, elders, middle voices and emerging stars made the pilgrimage to Madison to participate, while the video anthology of this living history has reached classrooms around the world. For this and other achievements, Gabbin was inducted into the Literary Hall of Fame for Writers of African Descent in 2005. As a professor and director of the Honors Program at JMU, Gabbin has relied on teaching and poetry to do the hard work of consciousness-raising. Her teaching and leadership have transformed the hearts, minds and attitudes of generations of Madison students.
"Poets have the language that allows them to express thoughts and feelings that are universal even though they are coming out of the depths of their personal souls."