Family Weekend
Mark your calendar for October 10-12 for the 2014 Family Weekend at James Madison University! Immerse yourself in the Madison Experience and join other JMU parents and families for a special weekend on campus during one of Harrisonburg's most beautiful seasons.
Family Weekend is your opportunity for a taste of campus life. Visit your son's or daughter's campus home, talk with university staff members, attend a class or presentation, tour campus, attend a concert and cheer on the Dukes to football victory.
Other Events
Commencement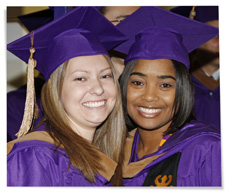 Congratulations to the Class of 2013 and their families!
First-Year Sendoffs
Before you embark on the most wonderful experience of your life, come join the excitement as we congratulate and welcome our newest Dukes! We'll provide the food while you enjoy the fun; talk with parents, alumni, and JMU staff and meet fellow classmates from your area.