News
Holidays Around the World
---
By Lauren Privette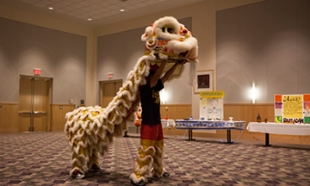 Performance of the Lion Dance by members of the Chinese Student Association at the 2012 Holiday Celebration hosted by the Peer Mentorship Program in the Festival Ballroom. Photo by Evan White for JMU Technology and Design.
Music, dancing, and holiday paraphernalia illuminated lesser known global holidays for JMU student and locals alike in the Festival Ballroom last Sunday the 2nd at 6:00pm. Hosted by the Counseling and Student Development Center's Peer Mentor Program, attendees to the 2012 Holiday Celebration were provided with information, ethnic dishes, and entertainment in an effort to increase cultural awareness within the JMU community.
Admittance required either three non-perishable canned goods or $3.00. The proceeds went to First Step, a local program offering support for people struggling with domestic violence. "It was either them or Our Community Place," said Dezirae Brown, a junior Geographic Science major and Peer Mentor employee. "We felt that First Step isn't as well known, so we decided to take a different route and help them out."
Upon entering the ballroom, guests were seated at circular tables– elegantly set and featuring table toppers relevant to the holidays in the program. The Contemporary Gospel Singers launched the opening of the ceremony and were followed by a presentation by the Chinese Student Association (CSA), explaining the Chinese New Year. CSA finished their section by performing the famous 'Lion Dance.' "I loved the Chinese New Year and the lion dance," said Whitney Staton, a senior Health Science major and presenter for the Christmas presentation. "I even got kind of scared when the lions danced throughout the tables; they were very interactive with the audience." 
Other highlights were the presentations about Hanukkah, Christmas and how it's changed in our society, Ramadan, Kwanzaa, and Dia de los Reyes Magos (A Spanish celebration about the three kings). Dance performances accompanied the presentations with Morgan Brown dancing to Beyoncé's "I Was Here" and Tekeya McDonald to Mary Mary & Kenneth C. Bishop Ulmer's "Still the Lamb."
Sweet potato latkes, couscous, and ham with pineapple were just a few of the ethnic foods provided to choose from. Locals and JMU students alike enjoyed the extensive meal. "The preparation was exciting! There was a dish for each holiday and all of them were fantastic," said Staton.
Though turn out wasn't as high as they had hoped, it was clear that the 50+ attendees and participants enjoyed the event. "We've been having the Holiday Celebration for 10 years now so it's become a tradition," explained Brown. "It's just a wonderful opportunity to learn about different holidays and cultures in an entertaining and interactive way."
See more pictures from the celebration at JMU Technology and Design's Flickr set.
Published: Tuesday, December 4, 2012
Last Updated: Friday, April 6, 2018