JMU Also Represented at Colonial Research Conference
Study of Lake Shenandoah Presented at Undergraduate Conference
By Shannon Murphy ('11) and Nikki Parrotte ('11), JMU Public Affairs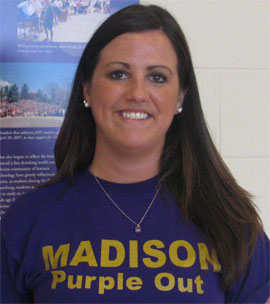 Melinda Ellis
Assessing pH levels, conductivity and chemical ions in Lake Shenandoah, Melinda Ellis researches the effects of sediment and nutrient loading. Through evaluating the amount of run-off and nutrient particles in the water, Ellis, a senior biology and chemistry double major, is able to calculate the impact on algae growth and the fish population in the lake just east of Harrisonburg.
"On days where there was a lot of rain or snow, I would go to the lake and take samples. Those samples would tell me what is being deposited into the lake, and give me information on how to correct the issue of over loading," said Ellis, who was advised by Dan Downey, JMU professor of chemistry.
Ellis was one of 12 JMU students who attended and presented their research at this year's National Conference on Undergraduate Research from March 31 to April 2 at Ithaca (NY) College. In addition to gaining experienced presenting research, the attendees were able to talk with others at the conference that attracted more than 2,500 participants from various disciplines.
"I was able to network with students doing the same or similar research that I was conducting and got to learn a lot of different perspectives," said Ellis.
Students researching topics in psychology, anthropology, justice studies, history, and political science also presented, providing a wide display of research techniques.
"It was cool to see the different things that were presented," Ellis said. "There was a psychology presentation that talked about tattoos and what society thinks about individuals with one. There was also a computer science presentation about creating a personal application for phones and their usefulness. When I think of research, I think science, so seeing the different aspects was eye-opening."
Other presenters from JMU were:
Jonathan Boltersdorf, chemistry, senior: Synthesis and Characterization of Hybrid Frameworks Derived from Poly(triazolyl)borate Ligands, adviser: Barbara Reisner
Deborah Dawitd, justice studies, senior: Female Genital Mutilation: The Puzzling Divergence Among the Same Peoples Separated by the Ethiopian-Eritrean State Boundary, adviser: Suraj Jacob
Nathan DiDomenico, physics, junior: The Spectral Properties of Galaxies with H2O Maser Emission, adviser: Anca Constatin
Michele Fiori, biology, senior: Determining a Role for the Ras Homologue Let-60 in Control of Apoptosis in C. Elegans, adviser: Timothy Bloss
Paul McDowell, history, senior: Guilty Until Proven Innocent: The 1891 Lynching of Eleven Sicilians in New Orleans, adviser: Raymond Hyser
Christine Schmidt, psychology, senior: The Effect of Mitigating Factors on Sentencing Perspectives, adviser: Kevin Apple
Matthew Silver, political science, senior: Under the Radar: Stealth Coalition Mobilization Compared to the Interest Group Aggregate, adviser: Timothy LaPira
Georgia Stoyanov, chemistry/biochemistry, senior: The Synthesis of Nitrogenous Heterocycles from Cyclopropanol Gragmentation, adviser: Kevin Minbiole
Kyle Vasquez, physics, senior: Study of Surface Energy Transitions Induced in Poss-Ma Polymer Films by Atomic Layer Deposited Oxides, adviser: Giovanna Scarel
Skylar White, chemistry/biochemistry, sophomore: Real-Time Crystallization Kinetic Analysis of 30 WT. % Poss-Ma Thin Films Using Atomic Force Microscopy, adviser: Bryan Augustine
Nathan Williams, chemistry, senior: St. Mary's Acid Mitigation Project: Is it Time for Another Dose of Medicine?, adviser: Dan Downey

Colonial Academic Alliance Research Confernce
JMU also had 10 students present research at the Colonial Academic Alliance Undergraduate Research Conference, hosted by Hofstra University April 8-10 in Hempstead, N.Y. The juniors and seniors who presented at the CAA conference represented the biology, physics, psychology, chemistry, biochemistry and political science departments.
This was the ninth year of the conference, which features research from the schools that compete athletically in the Colonial Athletic Association. CAA members are: University of Delaware, Drexel University, George Mason University, Georgia State University, Hofstra University, James Madison University, University of North Carolina Wilmington, Northeastern University, Old Dominion University, Towson University, Virginia Commonwealth University, and the College of William and Mary.
Presenters were:
Marin Barden, biology, senior: Plantar Pressure Distribution During Bipedal and Quadrupedal Walking in Two New World Monkeys, adviser: Roshna Wunderlich
John Bridstrup, physics, junior: Fabrication of Electro-Mechanical Devices for Testing the Electrical and Torsional Properties of Carbon Nano-Tubes, adviser: Scott Paulson
Ryan Byrne, chemistry, senior: Dimetic Propargylic Alcohols and Palladium(II) Acetate: A Novel Metallogelator System, adviser: Kevin Caran
Robert Davis, chemistry, senior: Polycephalic (Multi-Headed) Cations as Novel Surfactants, adviser: Kevin Minbiole
Jeffrey Henderson, psychology, senior: The Effects of Exercise, Emotional Film Exposure and Positive Urgency on Willingness to Engage in Risky Behaviors, adviser: Monica Reis-Bergan
Heidi Imrisek, psychology, senior: Central and Peripheral Processing of a Novel Nutrient in Breakfast Cereal, adviser: Monica Reis-Bergan
Julie Niziurski, psychology, senior: Is IQ Related to Police Performance?, adviser: JoAnne Brewster
Daniel Richardson, political science, junior: Race to the Top: A Study of Policy Implementation Within a Federal Structure, adviser: Chris Koski
Brandon Rugg, chemistry/biochemistry, senior: Forest Service Trout Survey in Virginia, adviser: Dan Downey
Megan Woods, chemistry, senior: The Thermal Decomposition of 2-Propanol on Zinc Sulfide, adviser: Tom DeVore
Published April 2011