May Graduate Gets State Department Scholarship to Study in China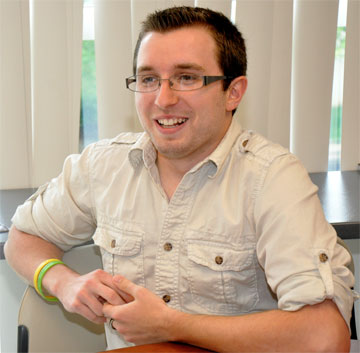 Patrick Rostock
Related Content
New JMU graduate Patrick Rostock isn't sure what kind of job he will get with his foreign language skills, but those skills are taking him places even before he finds a job.
Rostock, who graduated May 7, recently learned he was chosen for a U.S. Department of State Critical Language Scholarship.
The state department started the Critical Language Scholarship program in 2006 to increase opportunities for American students to study critical-need languages overseas. The program is part of a wider U.S. government effort to expand the number of Americans studying and mastering critical languages such as Arabic, Azerbaijani, Bangla/Bengali, Chinese, Hindi, Korean, Indonesian, Japanese, Persian, Punjabi, Russian, Turkish and Urdu.
The state department received more than 5,200 applications. Rostock, who majored in modern foreign languages, is one of 575 scholarship winners.
"Probably sophomore year of high school I realized that my goal in life was to learn every language spoken on the planet, you know, something reasonable," he quipped. "I got here (JMU) and realized I really liked Asian language and Chinese was taught here and Japanese was taught here."
Rostock, who is semi-fluent in French, said he didn't really pick Chinese for any specific purpose, but he has become fond of the language and the culture. The scholarship will fully fund Rostock's stay in Shanghai and he will receive a stipend for meals. He will leave the U.S. June 11 and return Aug. 7. While in China, he will be expected to speak only Chinese.
"There's one week where we travel somewhere," Rostock said. "Other than class and homework, you're kind of free to explore and learn to fit in."
Following the trip, he would like to continue learning languages, whether it be in a job or in graduate school.
"Really what fascinates me about languages is the diversity amongst them," he said, noting he is particularly interested in how languages are written.
Published May 13, 2011