News
Student Awards 2016
---
Justice Studies congratulates all of our May 2016 graduates, with special recognition to our award winners:
Outstanding Justice Studies Student Award: Ryan Harris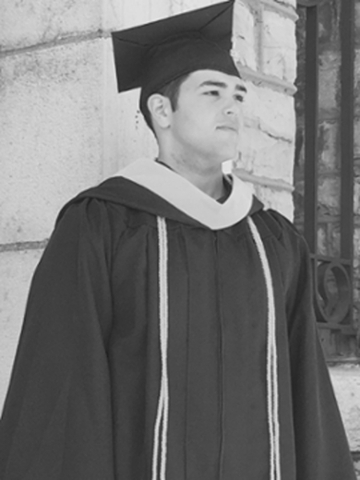 Ryan Harris is a Track B (Global Justice and Policy) Justice Studies graduate with minors in Criminal Justice and Communications.  He served as the Professional Development Chairperson of Phi Alpha Delta and served in a leadership role for Momentum, a student-led group to counter violent extremism through social media.  He organized a fundraiser and continues to speak as an advocate for Beat the Odds Scholarship fund, an organization in Loudoun County, VA that awards at-risk high school students who demonstrate exceptional academic success scholarships to pursue college.  Ryan also worked for Blue Ridge Legal Services while studying for the LSAT and will attend a top Law School, where he will pursue his passion for criminal defense, and supporting families and juveniles.  While at JMU, he took a special interest in the study of counterterrorism and juvenile justice.  According to Ryan, "the faculty I have encountered at JMU have challenged me, supported me, and pushed me to surpass my potential."
Distinguished Service and Scholarship Award: Laurel Winsor
Laurel Winsor is a Track C (Social Justice) student with a concentration in Pre-Law. She is an executive member for Campus Assault ResponsE (CARE) and is passionate about sexual and intimate partner violence prevention. Laurel hopes to attend graduate school in the future, and plans to stay in Virginia so she can remain close to her family. Laurel dreams of one day becoming a Supreme Court Justice; that would likely require a law degree, though, which Laurel says she isn't sure she's interested in obtaining. As a backup, Laurel hopes to end up in a career that will give her the opportunity to meet her hero, Ruth Bader Ginsburg.
Published: Tuesday, May 10, 2016
Last Updated: Monday, November 13, 2017