News
CCN named 2018 Best Practice Program
---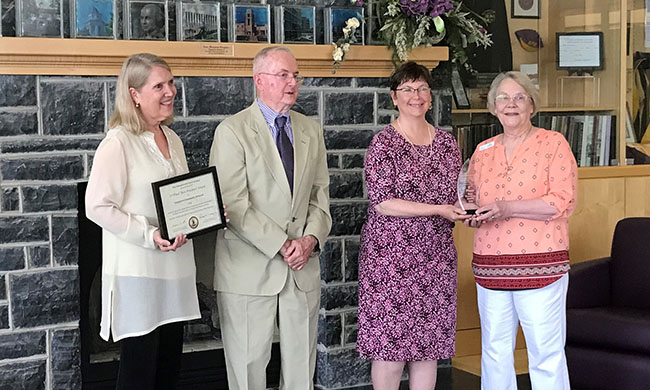 The Caregivers Community Network was recognized with a 2018 Best Practice Program Award (2nd place) by the Commonwealth Council on Aging.  This program is jointly managed by IIHHS and VPAS, exemplifying a marvelous story of community engagement and partnership. 
Dr. Richard Lindsay, Emeritus Professor of Internal Medicine and Family Practice and former head of the Section of Geriatric Medicine, University of Virginia Health Science Center, presented the award in his capacity as a member and former Chair of the Council.
To his right is Dr. Rhonda Zingraff, Director of IIHHS and Associate Dean for CHBS, who received the award on behalf of JMU.
To his left are Kathy Guisewite, CCN Program Coordinator, and Jeri Schaff, Executive Director of Valley Program for Aging Services (VPAS), who received the award on behalf of VPAS.
Published: Thursday, May 31, 2018
Last Updated: Monday, January 7, 2019