You are in the main content
UHC Spotlight: Student Wellness and Outreach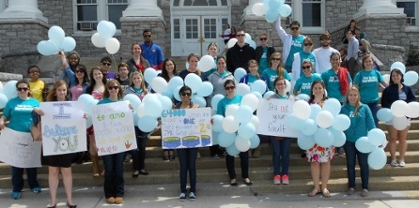 The UHC also advises student organizations
There's more to the University Health Center than just medical services.
"The UHC's Student Wellness and Outreach enhances the JMU student experience by providing accurate, comprehensive, developmentally appropriate health education programming to students, as well as expertise and support to staff and faculty," UHC Associate Director Beau Dooley said.
The UHC provides programming for residence halls, advises student organizations, and also brings professional speakers, documentaries, and campus awareness events to JMU. The Lesbian, Gay, Bisexual, Transgender, and Ally Education Program and resource library is housed in, and supported by, the UHC as well.
"The LGBT and Ally Education Program works toward promoting JMU's commitment to diversity through education, support, advocacy, and the fostering of equity for all students, regardless of sexual orientation or gender identity," Dooley said.
UHC's professional health educators and peer educators provide programming on alcohol abuse prevention, healthy body image, healthy masculinity, nutrition and exercise, sexual assault prevention, and sexual health.
"Health education is an essential part of the UHC's approach to providing the best care possible to JMU students," Dooley said. "Our health educators advise The Men's Program, Reality Educators Advocating for College Health (REACH), Campus Assault ResponsE (CARE), Greeks Advocating Mature Management of Alcohol (G.A.M.M.A.), and Student Health Advisory Council (SHAC). And the Health Center's substance abuse prevention specialists advise SafeRides. Our health educators also provide class instruction for a class for peer educators (HTH 407) and a class for the editors of Potty Mouth newsletter (HTH 389)."
Interested in getting involved? Peer educators are the lifeblood of college health education and there are many ways to help. Plus, volunteering with the Health Center, or its student organizations, provides solid experience and looks great on your resume.