Hart School of Hospitality, Sport and Recreation Management
2015 Homecoming Kettle Chip Competition
---
Twelve teams competed in the 2015 Aramark Homecoming Kettle Chip Competition.  The winning team will have their chips featured at the JMU Homecoming game on October 24th and second place team featured at the JMU Home game on November 21. 
Aramark had a really difficult decision – so much so that they chose one for homecoming and a second for the following home game.  From Gingersnap to Ja'macin me Crazy, the chip flavor profiles were entertaining and delicious.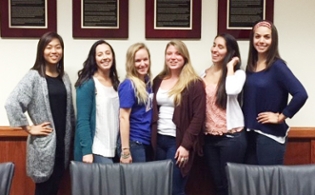 Right: Team Miller-Rachel Baroody, Lindsey DiRienzo, Olivia Helsley, Carrie Holland, Katie Horlacher, Grace Oh
"Homecoming Harvest Chip" – a distinct blend of autumn spices with just the right amount of salt and sugar. 
Your chips will be the featured Kettle Chip for Homecoming on October 24th.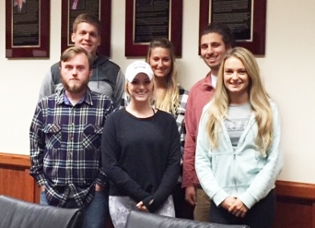 Left: Team Sonner-Kristin Guntharp, Joey Horton, Brianna Keefe, Chase Lopez, Alexander Mokhiber, Erica Zimbelman
"Seasons by the Bay Chip" – a lovely combination incorporating Old Bay. 
Your chips will be the featured Kettle Chip for November 21. 
Published: Wednesday, October 14, 2015
Last Updated: Saturday, February 10, 2018