Hart School of Hospitality, Sport and Recreation Management
Three Dukes Named NFCA All-America Scholar-Athletes
---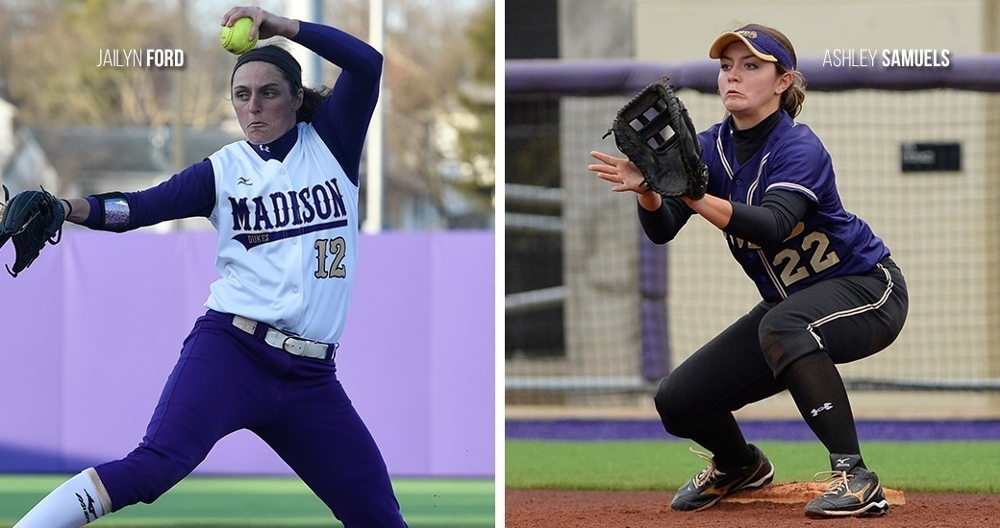 A pair of James Madison softball returners and one newcomer were recognized this week for their academic success as senior Jailyn Ford, sophomore Ashley Samuels and freshman Savannah Wood all picked up National Fastpitch Coaches Association All-America Scholar-Athlete honors, the NFCA announced Tuesday.
"We are extremely proud of these three young ladies," Head Coach Mickey Dean said. "Their work is a true testament to their commitment as student-athletes; true leadership both on and off the field."
To be considered for the award, players must have maintained a 3.5 grade-point average for the academic year. A total of 5,493 student-athletes across seven divisions (college and high school) were named NFCA All-America Scholar-Athletes.
This is the first academic honor for all three Dukes from the NFCA. Both Ford and Samuels were named to JMU's Dean's List and received the Colonial Athletic Association Commissioner's Academic Award. Wood was a member of the National Honor Society and honor roll student at Essex High School in Tappahannock, Va.
The Dukes finished the 2015 season with a 48-10 record and were the No. 15 overall seed for the NCAA Softball Championship. JMU garnered a pair of NFCA All-Americans after winning a record 36 straight games between March 8 and May 6.
Published: Thursday, October 8, 2015
Last Updated: Saturday, February 10, 2018