Hart School of Hospitality, Sport and Recreation Management
McPherson Named CAA's Top Rookie
---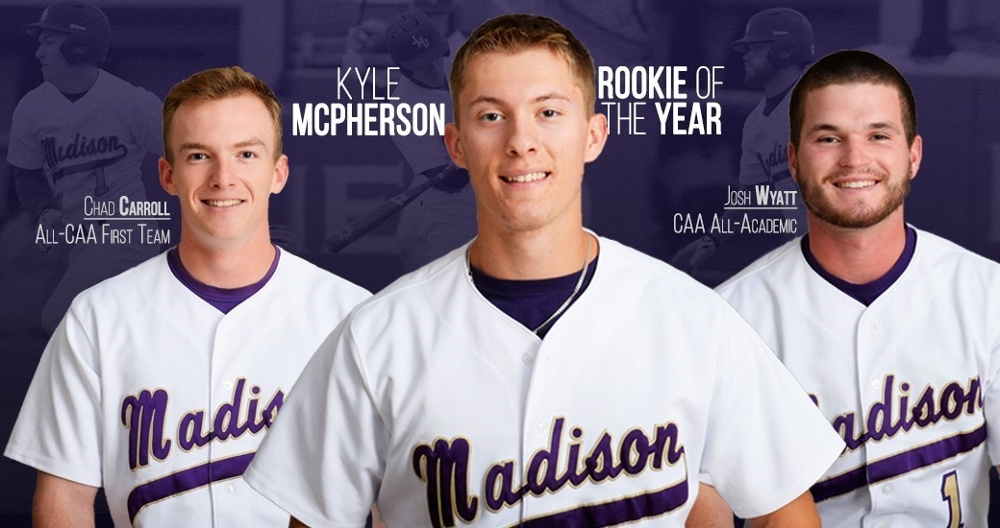 RICHMOND, Va. - Freshman second baseman Kyle McPherson, a Sport & Recreation Management major, of the JMU baseball team has been named the Colonial Athletic Association Rookie of the Year.
McPherson, the only Duke to start all 51 contests in 2015, hit .311 on the year, the second-highest average on the team, and posted an on-base percentage of .401. He racked up 40 runs, the third-most on the team, in his first collegiate campaign and tallied 19 extra-base hits--11 doubles, a team-high four triples and four home runs--that produced a team-high 92 total bases.
 
The Chesapeake, Va., native picked up multiple hits in 17 contests, the second-most of any Duke, including a team-high 12 three-hit performances. McPherson, who was a two-time CAA Rookie of the Week and also earned a spot on the All-CAA Third Team, is the first JMU player to ever garner CAA Rookie of the Year honors and the first Duke since Carroll in 2012 to make the league's All-Rookie Team.
"Coming in as a freshman, Kyle was our most consistent player all season, offensively and defensively," Head Coach Spanky McFarland said.
Published: Thursday, May 21, 2015
Last Updated: Saturday, February 10, 2018