Hart School of Hospitality, Sport and Recreation Management
JMU Captures Second-Straight CAA Title
---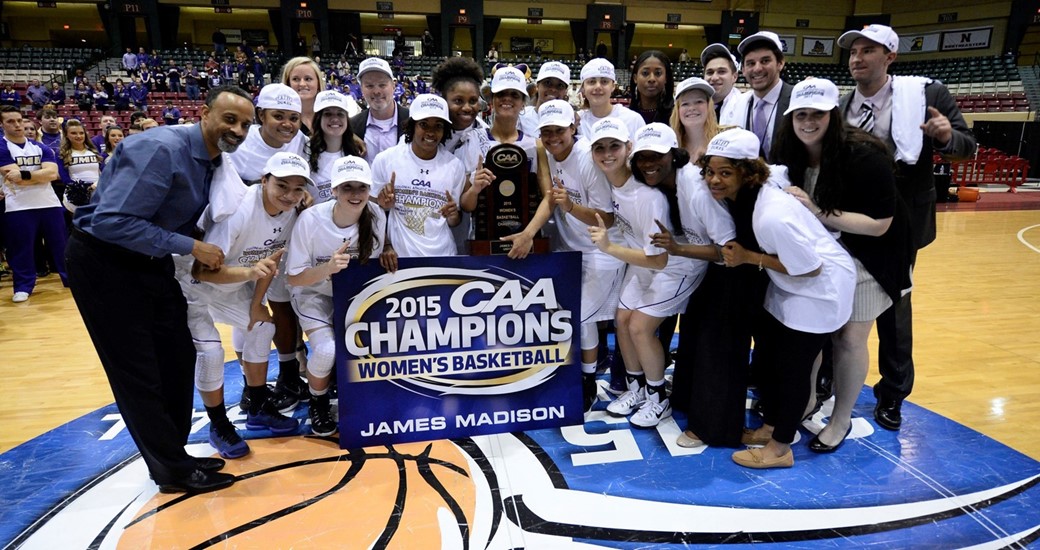 Behind redshirt-junior Jazmon Gwathmey's (SRM Major '16) third-career double-double with 17 points and 11 rebounds, the top-seeded James Madison women's basketball team clinched its second Colonial Athletic Association Tournament championship in a row with a 62-56 victory over third-seeded Hofstra on Sunday afternoon at The Show Place Arena. The championship marks the eighth CAA title in program history.
After a back-and-forth first half that saw the two teams trade leads throughout the frame, sophomore forward Da'Lishia Griffin sent JMU to the locker room at half with a 24-23 lead after a layup with 26 seconds left.
 
Out of the break, JMU opened the frame on a 9-3 run that saw Hofstra held off the scoreboard for the first 3:01 of action. Pushing the lead to nine points – the largest advantage of the day for the Dukes – with 14:06 to play, a 6-0 run by the Pride kept Hofstra in the game that cut the advantage to three at 37-34 with 12:18 to play.
 
Leading 41-40 with 9:48 to play, technical difficulties in the arena caused a 17-minute delay in action. Out of the break, JMU put together a crucial 11-3 run that was keyed by two jumpers apiece from Gwathmey and senior forward Toia Giggetts (HM Major '15) to put JMU up 51-44 with 5:21 to play.
 
With JMU trying to salt the game away Hofstra chipped away at the lead and ultimately pulled within three points of the Dukes after a layup by Kelly Loftus with 2:44 left to make it 53-50 JMU. Out of a timeout after a missed jumper and an offensive rebound by junior guard Precious Hall, (SRM Major '16) Gwathmey took the air out of Hofstra's run by knocking down a 3-pointer from the left side to make it 56-50 with 2:06 remaining. The shot from range was the only 3-pointer to fall for the Dukes all afternoon, as JMU finished 1-of-9 (11.1 percent) from behind the arc.
 
Though Loftus knocked down Hofstra's only 3-pointer of the game with 38 seconds left and hit three more free throws after being fouled on a shot from range, six free throws – four of which were hit by Gwathmey – sealed the championship for the Dukes.
 
Of Gwathmey's 17 points, 13 of them came in the decisive second half. For her efforts throughout the tournament, she was named Most Outstanding Player. In the final CAA game of her career, Giggetts scored 14 points on 7-of-13 shooting while both Hall and junior forward Destiny Jones finished with nine points. Jones tied her career high with eight rebounds in the victory. Both Hall and Gwathmey were named to the CAA All-Tournament Team alongside redshirt-senior center Lauren Okafor. They were joined by Elo Edeferioka and Krystal Luciano from Hofstra and Courtni Green of Delaware.
 
Loftus led the Pride with 16 points while Edeferioka and Anjie White rounded out Hofstra's double-figure scorers with 11 points each. Like JMU, the Pride also shot 1-of-9 (11.1 percent) from range while going 20-of-58 (34.5 percent) overall from the field.
 
The difference in the contest was at the free throw line, as JMU went 15-of-17 (88 percent) while Hofstra knocked down 15-of-22 (68 percent) from the charity stripe.
 
The Dukes will play Ohio State in thier first round on Saturday, March 21st at 1:30pm on ESPN.
Published: Wednesday, March 18, 2015
Last Updated: Saturday, February 10, 2018