Hart School of Hospitality, Sport and Recreation Management
Dukes Show True JMU Spirit at NCAA Finals
---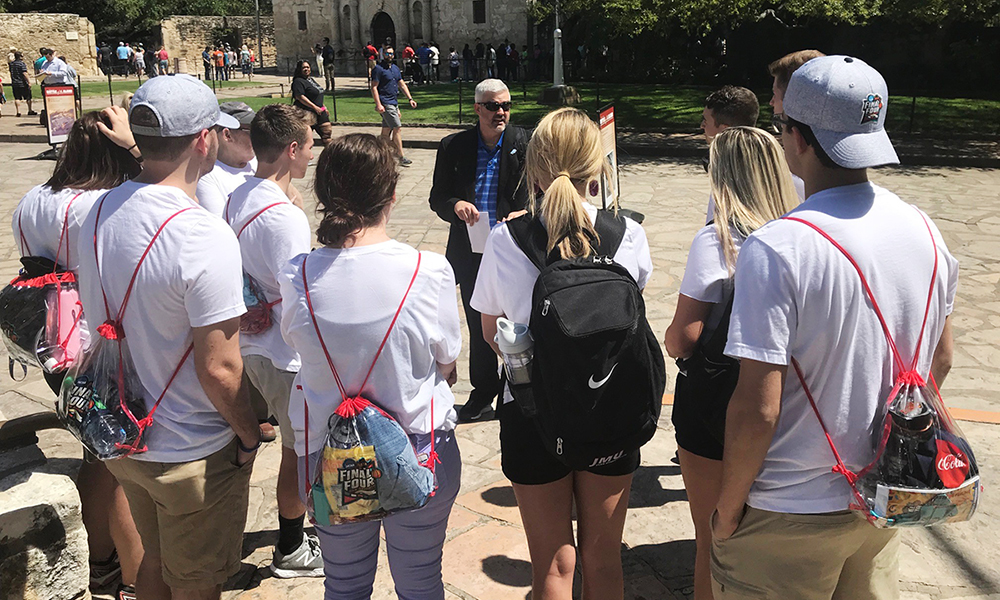 SUMMARY: A recent Experiential Learning trip found 10 Hart School Sport and Recreation Management students heading to San Antonio, Texas to volunteer at the Final Four with alumna Mandy Adkins, Director of Youth and Community Programs for the San Antonio Sports Commission.
---
Along with Lecturer Alyssa Bosley and Hart School Assistant Director Neil Marrin, the students volunteered for an event (the Final Four Dribble) involving nearly 3,000 children, collected data for the city of San Antonio and the San Antonio Sports Commission at the games and toured the AT&T Arena with the management team. Bosley called the trip "a tremendous opportunity to introduce our students to one of the biggest sporting events in the country and to learn how to deal with unexpected challenges while working events."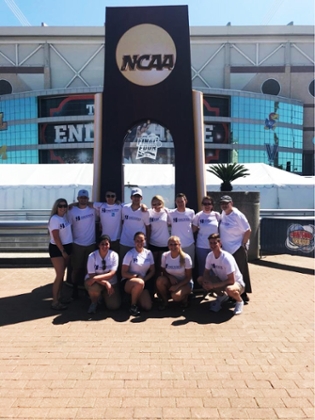 The five-day venture also offered several other networking and learning highlights. The students spoke with alumnus J.W. Cannon, Strategic Director, Partnership Integration/Sports Alliances with the American Cancer Society about his work and the keys to success in the industry, they met with JoAn Scott, Managing Director, Division I Men's Basketball at the NCAA and one of the top female professionals in College Athletics—and they even found time to sit down with President and Mrs. Alger for breakfast. 
The cohort consisted of eight undergraduate and two graduate students, including Alex Bunnell, Rebecca Hall, Bridget Shanks, Cameron Gross, Carissa Miller, Cassidy Clements, Jacob Lough, Julie Swenton, Ryan Chesler and Zach Palmer. Reflecting on her trip, Rebecca Hall said, "My trip to the Final Four in San Antonio, Texas without a doubt, changed my life. I had no idea the impact that the trip would have on me educationally, professionally and socially. The Hart School Foundation's funding allowed me to experience a once in a lifetime opportunity, leading me to believe that I am capable of way more than I ever thought I was." 
Zach Palmer found that the trip "allowed me to not only network with many JMU alumni and get their advice on what it takes to succeed after undergrad, but also network with many of my peers on the trip." Graduate student Bridget Shanks noted that "the world of sports is incredibly small and the ability to network with Dukes (both current and alumni) is something that makes the Hart School and JMU so special."
Published: Monday, April 30, 2018
Last Updated: Thursday, February 7, 2019