Marketing
Business Students Top Sales Competition
---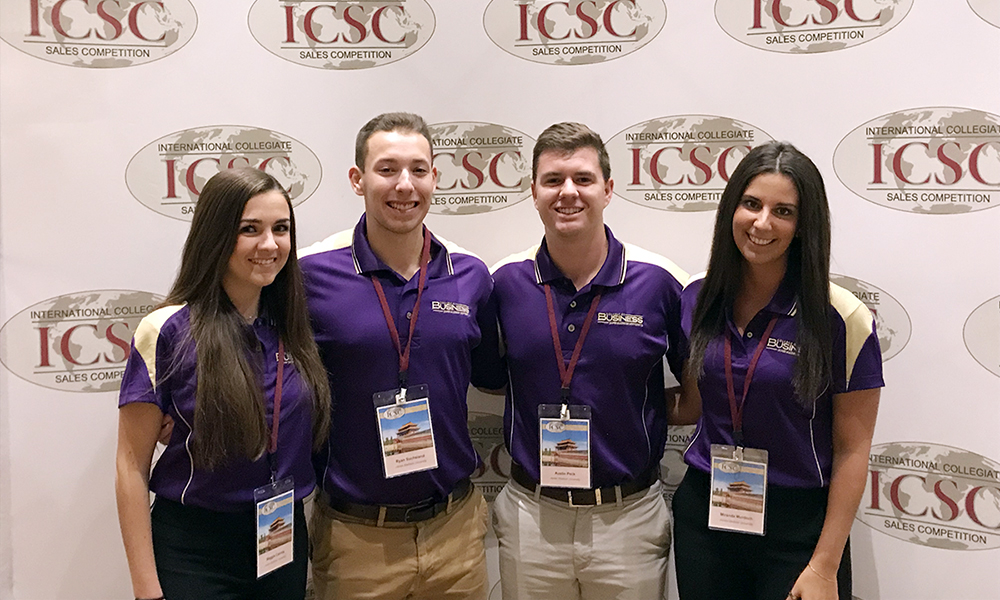 SUMMARY: Marketing majors Austin Peck and Maggie Carney won the Sales Management Case Competition, which is part of the International Collegiate Sales Competition at Florida State University.
---
Senior Austin Peck and Maggie Carney, both marketing majors, won the Sales Management Case Competition, topping 50 other teams from across the country. The competition, which took place on November 4 at Florida State University, was part of the annual International Collegiate Sales Competition. 
The students, who were given no information about their case in advance of the competition, had less than 24 hours to prepare once they arrived at FSU. That included gathering financial data (such as investment info and ROI estimates) and preparing presentation materials. Their final-round presentation to an executive vice president from CITRIX was selected as the winner over teams from Purdue University and the University of San Diego. 
This was JMU's first time participating in the competition, says Richard Tate, director of JMU's Center for Professional Sales. Additionally, JMU—unlike some of the other participating universities—does not offer a course in sales management.   
"One of the finalist teams has a sales case competition team that has been in training for this competition for over a year, but our team beat them," Tate says. "This is a huge testament to the great education that JMU's College of Business provides our students. They were able to compete and win against universities that focus specifically on winning this competition." 
Carney and Peck both credited the CoB's well-rounded curriculum—specifically the COB 300 course, which integrates the fundamentals of finance, management, marketing and operations. 
"My classes in the College of Business have taught us how to set strategic goals and find the most efficient ways to reach them, while making sure we provide the best possible solution to the problem presented to us," says Carney, who is minoring in business analytics. "I also think we have been prepared so well to work in a team environment. Austin and I were able to use our own strengths in order to reach our fullest potential as a team." 
Peck adds, "The COB 300 program definitely played a large part in our success … The competition was an extremely rewarding experience, knowing that the work we had put into it all paid off."
Published: Saturday, November 18, 2017
Last Updated: Wednesday, January 2, 2019