Center for Entrepreneurship
JMU Student Wins UVA Entrepreneur Competition
---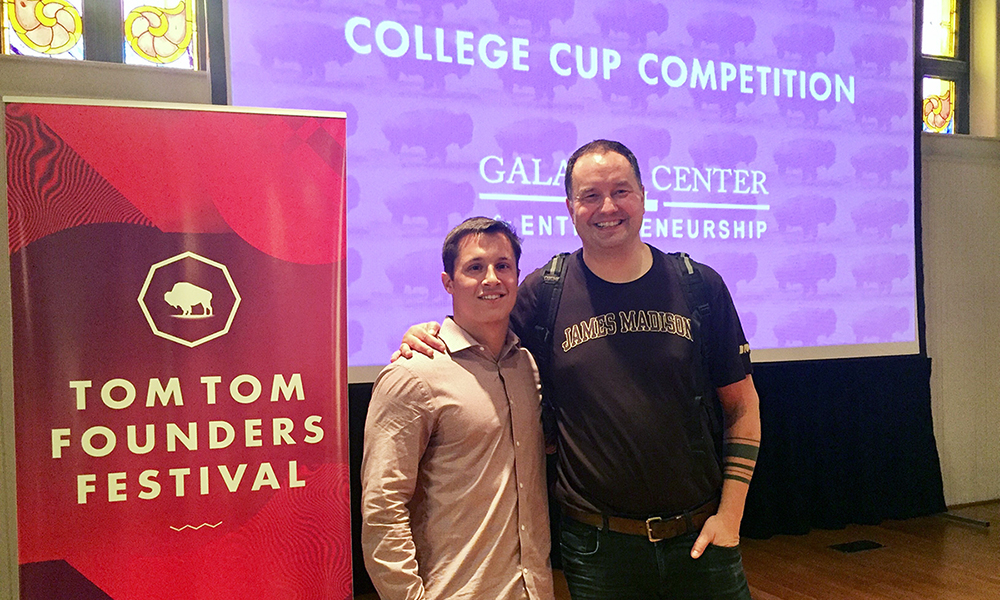 SUMMARY: JMU senior's business venture takes top prize in UVA's College Cup competition.
---
For the past two years, JMU senior Connor Feroce has juggled schoolwork while running the startup he co-founded. In April, his dedication to the business paid off as he won first place in the University of Virginia's College Cup venture competition, hosted by UVA's Galant Center for Entrepreneurship on April 15. The event was part of the Tom Tom Founders Festival. Feroce received a $6,000 prize and an invitation to compete in UVA's Galant Challenge on April 27. 
"It was great to meet entrepreneurs from other universities and hear them present their ventures," says Feroce, who is majoring in intelligence analysis and minoring in business analytics. "It was an awesome experience for me to have the opportunity to pitch BeatGig in front of a large crowd." 
Feroce co-founded BeatGig with Timothy Mulligan, a 2016 CoB graduate, and their friend Andrew Balitsky. BeatGig is a technology platform that provides musicians access to, and the ability to transact with, a global marketplace of buyers. He worked closely with Patrick McQuown, executive director of JMU's Center for Entrepreneurship, to sharpen his 5-minute pitch and prepare for the Q&A session. The panel of investor judges unanimously selected Feroce for the top prize, and he won the audience vote as well. 
"I enjoyed the process of preparing for the competition with Patrick, and getting his feedback on how to improve our pitch," says Feroce, who will focus full time on the business after graduating in May. "The Center for Entrepreneurship definitely is moving in a positive direction. I've seen more student ventures popping up, and the culture of entrepreneurship at JMU seems to be growing." 
McQuown says entrepreneurship competitions are important for helping young innovators develop the confidence they need to move forward with starting new business ventures. 
"When students go to these competitions and perform well, it validates that what they're doing has merit," McQuown says. "As somebody who was that student entrepreneur starting my first company out of my dorm room, I understand how that kind of validation goes a long way to developing confidence. Entrepreneurs are figuring out the process as they move forward with taking risks. At a competition, they can get positive feedback, and it's very motivating and provides assurance that you're walking down the right path." 
The Center for Entrepreneurship, housed in the College of Business, supports entrepreneurs across JMU's campus. This summer, the center will host a small number of student entrepreneurs who have startup ventures underway, providing workspace, funds and guidance from McQuown, as well as JMU alumni. At the end of the summer, student teams will participate in a "Pitch Day" to present their business ideas to potential investors. 
"The Center for Entrepreneurship is here for all students, faculty and staff regardless of their major or discipline," says McQuown. "We want the entrepreneurial spirit to be part of the ecosystem here at JMU."
Published: Tuesday, May 2, 2017
Last Updated: Wednesday, January 2, 2019