Management
Management Students Visit K2M Headquarters
---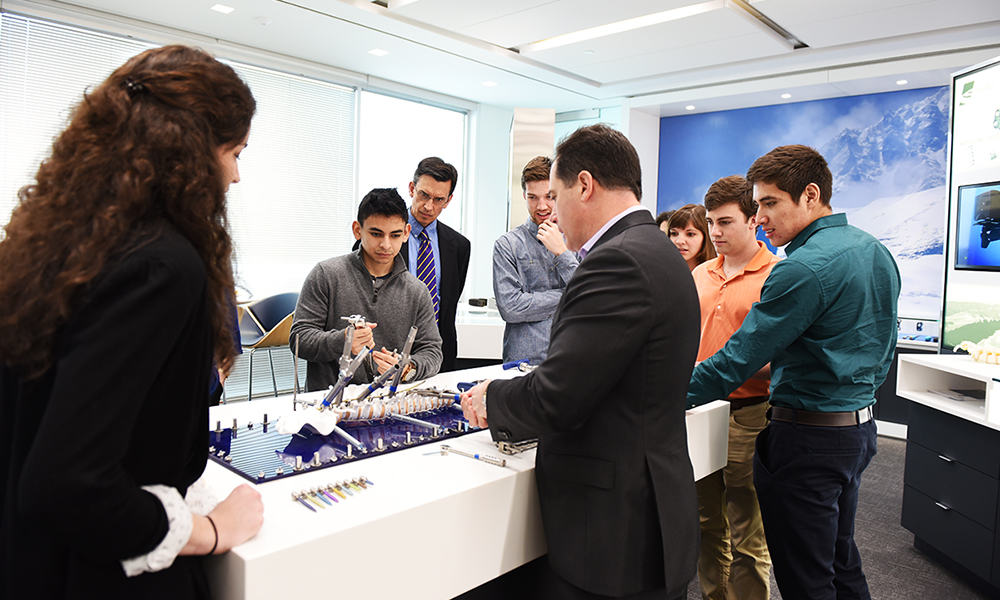 SUMMARY: JMU management students were hosted by K2M Inc. co-founder Eric Major, a 1991 CoB graduate and CoB Advisory Board member.
---
Ten JMU management students learned about entrepreneurship during a recent visit to the corporate headquarters of K2M Inc., a global leader of complex and minimally invasive solutions for spine disorders. The trip was sponsored by JMU's chapter of the management honors fraternity Sigma Iota Epsilon. 
K2M co-founder, president and CEO Eric Major, a 1991 JMU graduate, led a tour of the facility and hosted the students for a collaborative lunch with the K2M executive team, which includes several JMU alumni. Before leaving, the students engaged in a Q&A session with recent JMU graduates at the company to discuss transitioning from college life into the professional business world. 
"The top management team gave the students great advice on what employers are looking for in new hires and how to best search for jobs," says management lecturer Chris Roeder. "The visit was about company operations, but also about how to make a successful transition from JMU to the working world." 
Management professor Bob Kolodinsky adds: "We hope our students were inspired to believe that they, too, can someday – with the right values, focus, and passion – run an ultra-successful enterprise."
Published: Tuesday, April 18, 2017
Last Updated: Wednesday, April 19, 2017