Management
Driven by Faith
---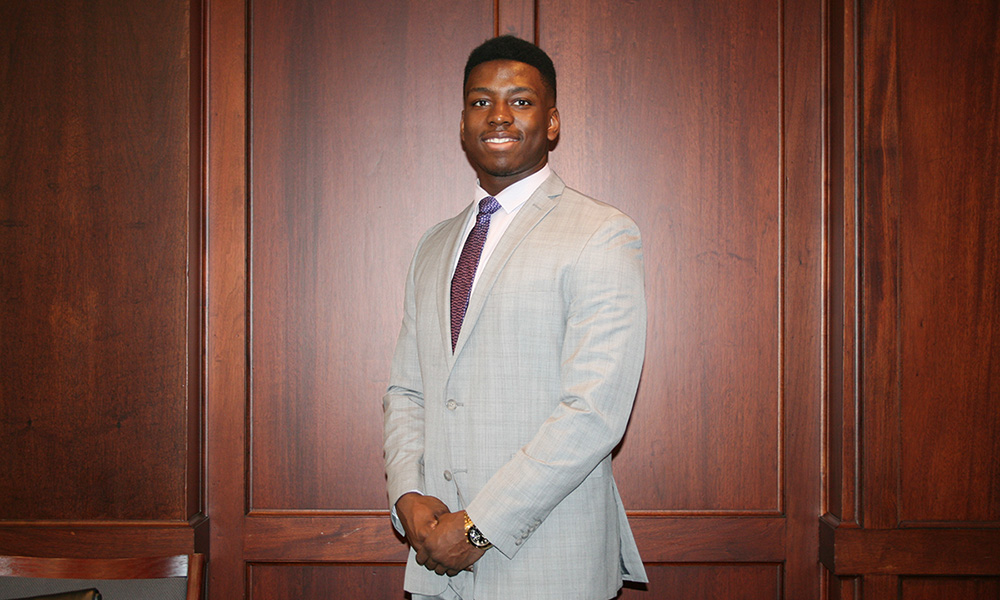 SUMMARY: CoB junior Richard Thomas strives to be true to his faith as he develops his business and leadership skills.
---
For Richard Thomas, faith and spirituality are inextricably tied to decisions about his future business career. As one of 21 students from across the U.S. to attend the Values and Capitalism Weekend Honors Program at Harvard University Law School last fall, Thomas had a chance to explore faith and entrepreneurship through lectures, group activities and networking events. The event was sponsored by the American Enterprise Institute. 
"Participating in this program really got the ball rolling for me to find what I really want to do and how to carry my sense of purpose and drive into everything I do," says Thomas, a junior from Fredericksburg, Va. "My Christian faith is important, and I want to be true to that in my career." 
Thomas, a management major with concentrations in analysis and consulting, also believes it's important to give back to the university community. The vice president of the Black Student Alliance, Thomas also is president of of Madison Liberty, a student advocacy group that promotes individual rights and freedoms guaranteed by the U.S. Constitution. A frequent volunteer speaker representing the College of Business for several Open House events, Thomas often shares with prospective students and their families how business courses develop professional skills--especially COB 300, the core course that integrates the disciplines of finance, management, marketing and operations and requires students to work in teams to create a viable business plan. 
"That team atmosphere of that course is key," Thomas says. "Finding out what you're good at and what others are good at, and then trying to make that all fit together to get a job done in a reasonable amount of time is a valuable experience." 
For the past two years, Thomas has gotten plenty of hands-on management experience through his work as a resident adviser in Willow Hall. He provides support for about 25 residents, many of them international students, and plans and coordinates programs for the residence hall community. 
"It's my responsibility to foster good relationships and promote a positive team atmosphere within the residence hall," Thomas says. "Different people have different ways of doing things, and when they are living together, it's important to maintain a peaceful environment." 
Thomas, who enjoys participating in intramural sports on campus, appreciates JMU's focus on students first. He is close to several of his professors and believes his college experience is "the gateway for a better life and opportunities to help others." 
"The professors here have been welcoming, and the atmosphere here is geared toward each student's success," he says. "The professors work closely with their students to make sure that when we leave this place, we are prepared with the skills we need to be business leaders for the future."
Published: Thursday, February 9, 2017
Last Updated: Wednesday, January 2, 2019