News
The College of Business' Outstanding Graduating Students Named at Annual Award Ceremony
---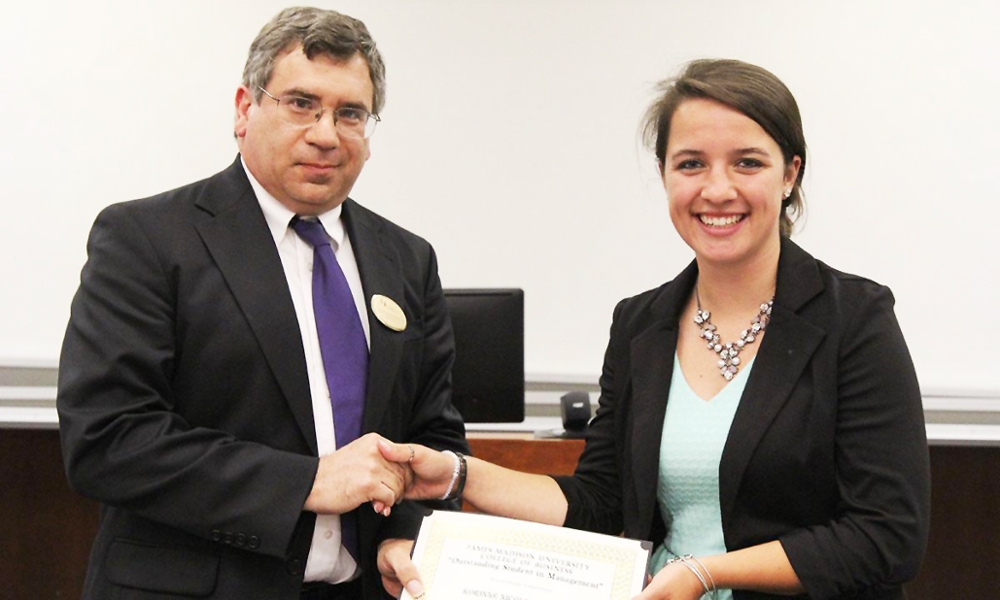 Congratulations to the College of Business' outstanding graduating students! The College of Business Award Ceremony was held on Thursday, May 7, 2015.
Accounting
Outstanding Undergraduates in Accounting -
Christopher Shuping
Troy Thomas
Outstanding Graduates, Masters of Science in Accounting –
Shannon Langley
Danielle Robinson
Claire Sibley
Federation of Schools of Accounting Outstanding Masters Student –
Danielle Robinson
Computer Information Systems & Business Analytics
Computer Information Systems Outstanding Seniors Award –
Emily Band
Michael Gigliotti
Computer Information Systems Consulting Excellence Award –
Zhenkai Li
Taylor Townshend
Tyler Scott Matthias
Economics
Outstanding Senior in Economics –
Eleanor Leigh Jordan
Faculty Award for Academic Excellence in Economics –
Marcus Giovanni Di Brito
Finance & Quantitative Finance
Outstanding Senior in Finance –
Mohamed Elsayed Mostafa Elsayed
Outstanding Seniors in Quantitative Finance –
Marcus Giovanni Di Brito
Gabriel Kent Mills
Hospitality, Sport & Recreation Management
Outstanding Seniors in Hospitality Management –
Kristen Gratton
Katherine Hoer
Outstanding Senior in Sports & Recreation Management –
Aryton Glasper
International Business
Outstanding International Business Graduates –
Mary Joyce Ball
John Schengber, Jr.
Management
Outstanding Student in Management –
Korinne Sulewski
Management Faculty Award in Excellence –
Kyle Toebe
Zane Showker Entrepreneurship Award –
Amanda Presgraves
Marketing
Outstanding Student in Marketing –
Matthew R. Deters
Marketing Faculty Award for Excellence –
Coleman A. Fleming
Workshop Digital's Outstanding Search Engine Marketing Student –
Morgan M. Moore
Outstanding Woman in Sales –
Kaitlyn E. Blair
Outstanding Man in Sales –
Michael J. Pazirandeh
JC Penney Spirit Award –
Sara G. Coit
Paige L. Guidice
College of Business
Alpha Kappa Psi Award –
Ashley Marie Musumeci
Delta Sigma Pi Scholarship Key –
Troy Thomas
Valedictorian –
Madeleine Sandridge
Master of Business Administration
Outstanding MBA Student –
Jonathan R. Bailes
COB Honors Thesis Recognition
Marketing Department:
Advisor: Dr. Val Larsen –
Morgan M. Moore
Finance & Business Law:
Advisor: Dr. Pamela Drake –
Matthew Quinn Rubino
Economics Department:
Advisor: Dr. William Grant –
Eleanor Jordan
To see pictures from the Award Ceremony, please visit the College of Business Facebook page. 
Published: Friday, May 8, 2015
Last Updated: Saturday, February 10, 2018