News
Spring Food Drive Results: 4,028 Items for Local Food Pantry
4,028 Items for Local Food Pantry
---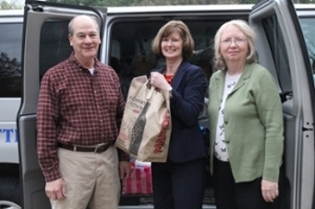 Thanks to the donations of students, faculty, and staff, the Massanutten Presbyterian Church food pantry can offer an additional 4,028 items to people seeking assistance.  The food drive was organized by the CoB Diversity Council, in conjunction with the International Business Club and the CoB Student Diversity Council.
Dr. Marion White is grateful for the support. She says, "Thank you for all your support for the spring food drive.  This collection far exceeds our total of last year.  I am overcome by everybody's generosity, and very appreciative of all your efforts."
CoB Diversity Chair Daphyne Thomas says, "We are pleased with the excellent response to this food drive. We know how important it is to give back to the local community, and the College of Business seeks to provide these opportunities to our students. We want to recognize and thank Bob Jerome for delivering the items to the church."
Donations included non-perishable food items, every day toiletries, and diapers. 
The College of Business would like to thank the volunteers who organized, counted, and moved the items, as well as everyone who donated to the food drive.
Published: Monday, April 13, 2015
Last Updated: Thursday, October 20, 2016