News
Google's Exie Huntington Visits the College of Business
---
Dr. Theresa Clarke's classes again led the way in the 2014 Google Online Marketing Challenge. For the first time ever a JMU team consisting of Ashleigh Rojanavongse, Rachel Lam, Lauren Hale, and Kaci Lassiter, was named a Global Co-winner in the AdWords Business competition.
In the fall of 2014, this winning team visited Google headquarters. Thanks to alumnus and Board of Advisors Member Paul Holland, the group had the opportunity to network at seven local firms during their week-long visit to San Francisco, Calif.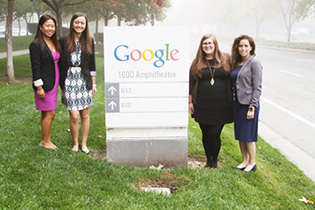 Thanks to JMU's success in the Google Marketing Challenge, the College of Business had the privilege of welcoming Exie Huntington, a Google University Programs Specialist, to campus from January 22-23, 2015. Huntington gave a standing-room only presentation on "Career and Internship Opportunities in the Business Side of Google," where she spoke about the work atmosphere at Google and how to create a good résumé that will help students get the internships and jobs that they want.
Huntington told the students that they "need[ed] to pop as a 3D person," on their résumé so they should avoid putting "generic things" on their résumé. She also encouraged them to apply to the BOLD Summer Internship at Google and Google Ad Camp, an experiential learning program for college students who want a career in online advertising and sales.
She also presented to students in the Advanced Professional Selling and the Internet Marketing Practicum courses, as well as students at three invite-only sessions, covering "Emotional Intelligence in Leadership," "Personal Branding," and "Creativity and Brainstorming."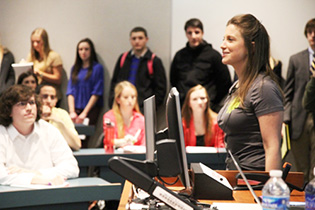 "Exie provided wonderful tips on how to best position yourself when applying for jobs and internships at Google," said Clarke. "Google Ad Camp is an especially attractive opportunity for our marketing students given JMU's curricular emphasis on sales and online marketing."    
To be considered for the internship, apply for the Google Ad Camp by March 1, 2015
Published: Monday, February 23, 2015
Last Updated: Thursday, October 20, 2016