College of Health and Behavioral Studies
HSA internships lead to full-time jobs
---
By: Sara Banton
Creative Services Student Writer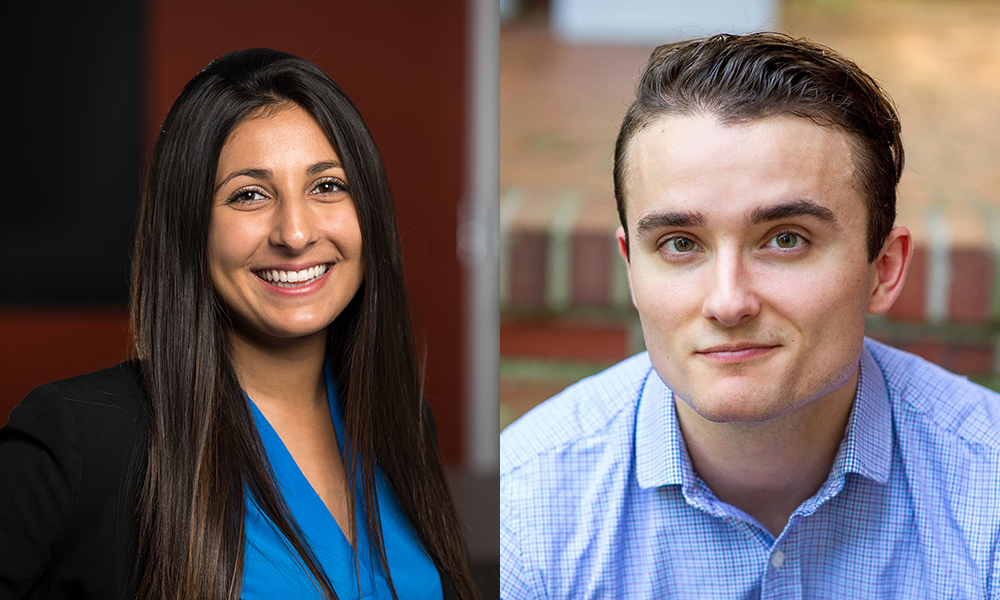 In addition to on-the-job experience, internships provide students with valuable opportunities and connections. For two health services administration (HSA) alumni, Christopher Nichols ('18) and Alexa Karkhanis ('18), their internships not only allowed them to experience parts of different healthcare sectors of the health administration field, but also resulted in full-time jobs.
Nichols, who interned at Sentara Healthcare in the IT department, credits many aspects of the HSA program for being prepared for his internship as well. At the end of his internship, he was offered the position of Associate Business Systems Analyst (BSA) at Sentara IT.
"I received a solid base of healthcare knowledge from the program, as well as important technical and research skills that served me well in my capacity as an intern and eventually in my employment as a BSA," Nichols said.
Through his studies and listening to the guest speakers at Health Administration Student Association (HASA) meetings, Nichols realized that he desired to work in a health system that would impact the health of individuals over a large scale and be at a healthcare organization that was forward-thinking and technology-driven.
"Sentara IT covered all my bases: not only would I be working at a health system that is constantly striving to improve the health of its community, but I would be interning at an organization I knew on a personal level and with a company that embraces innovation," Nichols said. "When the opportunity arose to work and learn at Sentara, I jumped at the chance."
Over the course of his internship, Nichols participated in an extensive rework of Sentara's customer support model for their MyChart Patient Portal. During this project, he made multiple presentations to various leaders in the organization and received feedback, interviewed stakeholders, conducted meetings and learned a lot about healthcare IT. His final product improved Sentara's patient portal.
Additionally, Karkhanis interned at iVantage Health Analytics, a health analytics firm outside of Boston, Massachusetts. Upon completion of her internship, she was offered the position of a Client Services Operational Analyst.
"All throughout college, I imagined working in a hospital. But before committing to working in a hospital for my first job, I wanted to experience another side of the health care administration world," Karkhanis said. "A health analytics firm allowed me to see more of the business side of the industry and I was able to learn a lot about hospital operations and their finances."
As an operational analyst, Karkhanis processes hospital's general ledgers and payroll data. Throughout her daily work, she utilizes curriculum learned through the HSA program, from courses like Hospital Organization and Administration, finance, accounting and funding. "You will likely find yourself using knowledge learned from all your classes at some point throughout your internship," she said.
Karkhanis is thankful that she accepted an internship in an analytics firm. "I never thought I would be interested in working outside of a hospital, but now I can't imagine doing anything else," she said. "Our HSA program prepared us very well for our internships and you will find you know much more than you think."
HSA internships provide a structured experience for students. During their internships, students learn the operations of a healthcare organization, design and implement projects that connect the interests of the student and the needs of the organization, develop professionalism and leadership skills and advance knowledge and skills in health administration.
While in the HSA program, students have many opportunities to develop their professional networks that frequently result in internship offers. HSA program director, April Temple, explains that the internship allows students to translate knowledge into action through practical experience and creates an opportunity for students to explore an organized setting based on initial career interest.
"Our students have excelled in their internships," Temple said. "The organizations and field supervisors are so impressed with the caliber of our students that they seek ongoing partnerships with the program for future internship placements."
Published: Wednesday, October 31, 2018
Last Updated: Wednesday, October 31, 2018