News
Jessica Irons receives Ford Award
---
By: Sara Banton
Creative Services Student Writer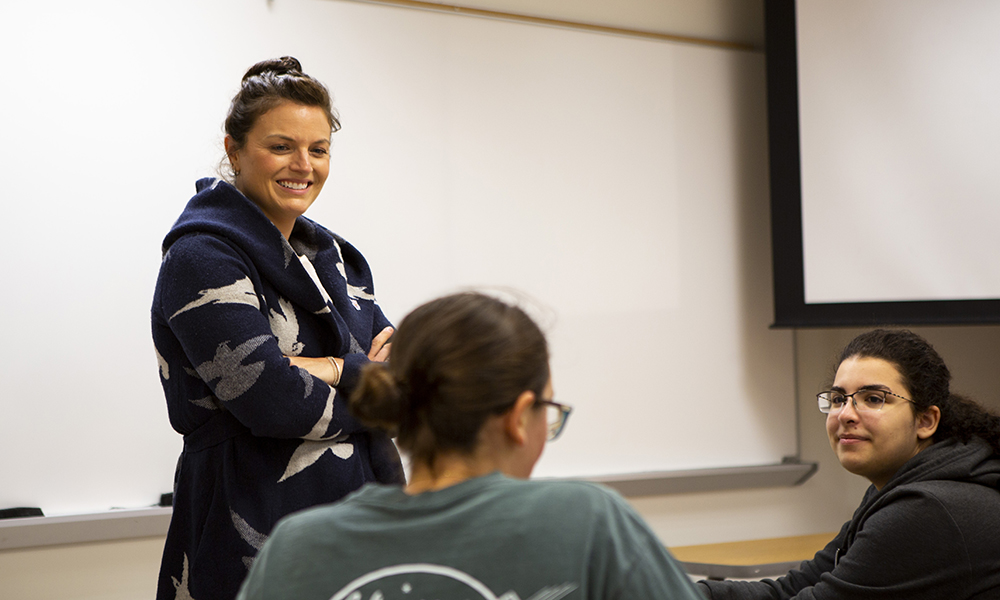 For the past five years, the Ford Faculty Endowment Award has recognized professors at JMU for outstanding work. Jessica Irons, the 2018 recipient, is the first psychology professor to receive this award.
The Ford Award is granted to a professor who promotes students' learning while excelling in their teaching and/or research. A nominee must have served 10 to 20 years at JMU and possess a superior record in creative activity, integration of teaching and scholarship, curriculum development, technology enhancements and professional development initiatives.
"Irons has completed exemplary work with her teaching and scholarship," Department of Psychology head, Kevin Apple, said in his nomination letter. "She integrates her teaching and scholarship to benefit student learning processes. She has also led many professional development activities for both students and faculty."
Irons recognizes that receiving this award is a reflection of the psychology department itself, thanks to the collective support of her colleagues and their students.
"The department of psychology is strong in both teaching and scholarship," Irons said. "I would not have the record of teaching and scholarship I do without my department's support and our excellent students, who are made excellent, in part, because of excellent colleagues."
Within her teaching, Irons emphasizes psychology as a science and fosters critical thinking. In her nomination letter, Apple acknowledges Irons' classroom as being enthusiastic, rigorous and promoting active-learning. Outside of the classroom, she serves as an adviser and research mentor and her service largely reflects her passion for her students and colleagues. In terms of scholarship, Irons has produced many scholarly products, in which she applies theory to real issues, such as addiction, gambling, exercise, academic success, PTSD and common drug use.
"The psychology department is fortunate to have Irons as a member of our department. Her presence and leadership at the university and in her professional field is beneficial not only for JMU students, but also for fellow JMU faculty," Apple said. "She is an exemplary member of the psychology department and leader for fellow faculty and students at JMU."
Irons thrives as a professor, mentor and scholar. Having been chosen for the Ford Award demonstrates her love of and service to the JMU community while also highlighting her achievements within her field.
"I am in my twelfth year at JMU and I still love my job and pinch myself that I get to do this work for a living," Irons said. "Being recognized for that work is always unexpected, deeply appreciated and it reinforces the notion that I am doing what I am meant to do in the place I am meant to be."
Published: Monday, October 29, 2018
Last Updated: Monday, October 29, 2018