College of Visual and Performing Arts
Music Director of JMU A Cappella Group Note-oriety to Perform in Final "Sing Out!"
---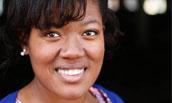 Senior Zoe-Elizabeth McCray grew up in a family of educators/pastors in Alexandria, Virginia, where she participated in musicals, dance, theatre and art at West Potomac High School. That all "just carried over to college" when she chose to pursue a music degree in vocal performance at JMU.
McCray has spent a good portion of her time at Madison in the Music Building and at the Forbes Center. "It's a running joke in Note-oriety that if you take me out of the music school or out of Forbes, I'm a fish out of water," shares McCray. McCray has served since the end of her freshman year as the music director of Note-oriety; the all-female a cappella group is one of eight JMU a cappella groups participating in the Forbes Center's annual Sing Out! in March.
McCray was the music director (and vocal coach) for the Studio Theatre Production of Dogfight: The Musical, which ran at the Forbes Center in November. She was also the music director for the Forbes Center Studio Theatre Production of Avenue Q—and 35mm, a song cycle performed in Wayland Hall, where McCray lived her first year on campus.
McCray appreciates the opportunities the School of Theatre and Dance has afforded her, and in addition to music directing, was cast in the Forbes Center Studio Theatre Production of The 25th Annual Putnam County Spelling Bee her first year and ALL SHOOK UP as a sophomore.
McCray has spent a significant amount of time on theatre-related work, but has spent even more time on School of Music pursuits. McCray has been a member of the University Women's Chorus, Treble Chamber Choir, JMU Chorale, and Madison Singers. She has also been involved with the opera since her first year, where she has been a chorus member and chorus leader. Her part as "Berta, Dr. Bartolo's maid" in The Barber of Seville marked her first lead role in an opera.
A turning point in McCray's college career came this fall when the video she produced featuring Note-oriety members singing a rendition of Beyonce's "Pretty Hurts" received national attention. McCray says the arrangement came to her in a dream, and when she woke up, she wrote it all on a napkin with an eyeliner. The importance of a positive self-image was the message of the video, which has touched the lives of hundreds of thousands of people. "I had a vision that we would have 5,000 views on YouTube," reveals McCray. That number has reached close to 500,000. To view the video, visit https://www.youtube.com/watch?v=5Dsdk2ZT5jI.
McCray was recognized for her outstanding musical contributions with a Furious Flower scholarship through the School of Music last year. She was recently a featured singer with the Wind Symphony in the 2015 Virginia Music Educators Association Conference, an opportunity she calls "the icing on the cake" of her senior year.
As for McCray's future, she hopes to attend graduate school for vocal performance and also have a singing career. McCray believes JMU has amply prepared her for future success. "Go to JMU for music," advocates McCray. "It will be the best experience of your life."
Published: Tuesday, July 25, 2017
Last Updated: Wednesday, August 9, 2017