College of Visual and Performing Arts
Be the Change: Suzanne Miller-Corso
---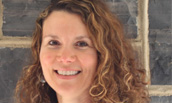 Suzanne Miller-Corso, the 2009-2010 Distinguished Teacher for the College of Visual and Performing Arts, and the New Dance Festival are both celebrating 20 years at JMU this year. Miller-Corso started as an adjunct dance professor in 1996. A full-time position teaching musical theatre style dance opened up three years later, and Miller-Corso had found her niche.
Growing up in Baltimore, Miller-Corso performed in high school musicals. She stayed local for undergraduate school, earning a B.F.A. in dance from Towson University, a minor in education, and a K-12 teaching certificate. She taught physical education and dance for four years, and then became "thirsty to learn and gain more knowledge." This desire led her to the University of Colorado at Boulder, where she earned an M.F.A. in dance performance and choreography—and found a passion for contemporary modern dance.
This new love had Miller-Corso wanting to teach modern dance, but the path at JMU pulled her in a different direction. Teaching musical theatre would allow Miller-Corso to apply skills and knowledge acquired through performing professionally in the musicals Hello Dolly, Annie Get Your Gun, A Chorus Line and Phantom of the Opera. She choreographed Kiss Me Kate, her first musical, in 1997. She had the opportunity to choreograph Kiss Me Kate again when the Forbes Center first opened in 2010. "It was satisfying to see how my choreography had grown. I think (the latter) was one of my best works."
In 2009, Miller-Corso had the chance to return to her K-12 education roots. She initiated the teaching licensure dance program at JMU, and is currently working to create more dance programs in the public schools because "there are not a lot in Virginia." Arts integration has become an important term to Miller-Corso, who spent her educational leave in 2012 reinforcing science concepts through creative movement at Spotswood Elementary School in Harisonburg. "I'm interested in how students can learn about the stages of the moon through movement, but there's also looking at dance specifically from an arts point of view: art for art's sake."
Interested in "bridging and creating educational partnerships within the community," Miller-Corso helped to develop the Harrisonburg High School Fine Arts Academy—and created the dance curriculum for it. She is excited about being on the Community Arts Board for Any Given Child Harrisonburg, a partner of the Any Given Child national program sponsored by The Kennedy Center advocating access and equity to the arts for K-8 students.
As for the future, Miller-Corso will move away from her teaching of musical theatre style dance, but will remain active in her teaching of jazz, tap, ballet and modern dance.
Published: Tuesday, July 25, 2017
Last Updated: Wednesday, August 9, 2017