College of Visual and Performing Arts
JMU's Studio Design Center Features New Spaces and Equipment
---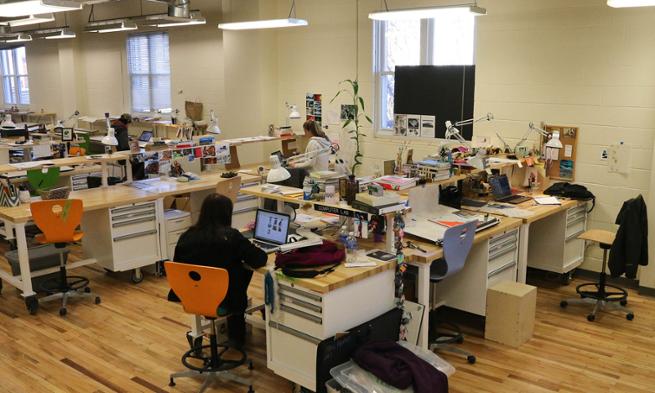 Graphic Design, Architectural Design and Industrial Design students in the School of Art, Design and Art History (SADAH) at James Madison University can now work under one roof thanks to a $1.5 million dollar upgrade. Renovations to JMU's Studio Design Center began in August 2014. Classes for the three areas are being held in the 30,700-square-foot facility this semester.
The graphic design area had moved three times in the last three years before landing a permanent home in the Studio Design Center, a home that would double its number of rooms, according to Dawn McCusker, professor of graphic design and associate director of SADAH. "It is impressive to have so many spaces for graphic design," says McCusker.
Those spaces include a high-tech seminar room, two classrooms, a production room, a 1,000-square-foot senior studio with brand new workstations, an interactive media lab, and the Madison Book Lab featuring new bookmaking and letterpress equipment purchased with grant money awarded to McCusker. The first 200-level Book Arts class is being taught this semester as part of a new Book Arts minor at JMU. McCusker will teach the first Letterpress class in May.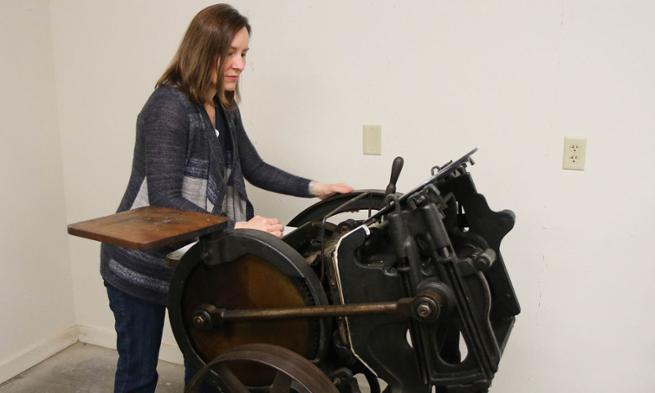 Architectural Design doubled its amount of studio space to 2,800 square feet and added new workstations, allowing second, third and fourth year students to work together in the same room, according to Jack Fanning, digital design and fabrications manager.
Industrial Design has its own 1600-square-foot studio and shares with Architectural Design a computer lab, a concrete lab, a dedicated casting space, a self-contained booth for spray painting, a woodshop for traditional design making processes, and two digital fabrication rooms featuring a 5x10 CNC Router, laser cutters and 3D printers.
The Studio Design Center features 3,000 square feet of shared pin-up space for critiquing and hanging student work, contributing to "a perfect setting for inspiration and collaboration between the design areas," says Fanning.
The building is also equipped with a new general-use computer lab and a state-of-the-art ventilation system.
Photos by Bob Adamek.
Published: Tuesday, July 25, 2017
Last Updated: Wednesday, August 9, 2017