College of Visual and Performing Arts
Grandson of JMU's Second President Lights up "The Tempest" at Forbes Center
---
By Jen Kulju (M'04)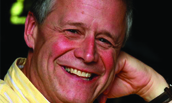 Stuart Duke is serving as the guest lighting designer for the James Madison University School of Theatre and Dance's The Tempest, but his ties to campus run deep. His grandfather was Samuel Page Duke, JMU's second and longest reigning president (1919-1939), for whom Duke Hall, the Marching Royal Dukes and the JMU Dukes were named.
"You see the family name frequently on campus," affirms Stuart. "Sadly, I never knew my grandfather because he died in 1955, the year before I was born. But I came to Harrisonburg many times growing up to visit my grandmother, who lived in an apartment that is now a fraternity house."
Stuart grew up in Darien, Connecticut, about an hour's train ride to New York City. His mother used to take him to Broadway shows, where his passion for theatre led to an excitement about pursuing a career in the field. Stuart earned a bachelor's degree in theatre, radio/television and public speech from Ashland University in Ohio. After graduating in 1978, he worked in theatrical lighting design for many years before taking a "detour" to Vermont's Weston Playhouse Theatre Company, where he was the managing director for 17 years.
While at Weston Playhouse, Stuart recruited several JMU theatre students as summer interns—and established ongoing connections with JMU theatre faculty members. Now a freelance lighting designer, Stuart is back on campus to light his second show, The Tempest, a show he "has always wanted to do." "I'm really excited to come down and lend whatever experience or expertise I can to benefit the students," exclaims Stuart.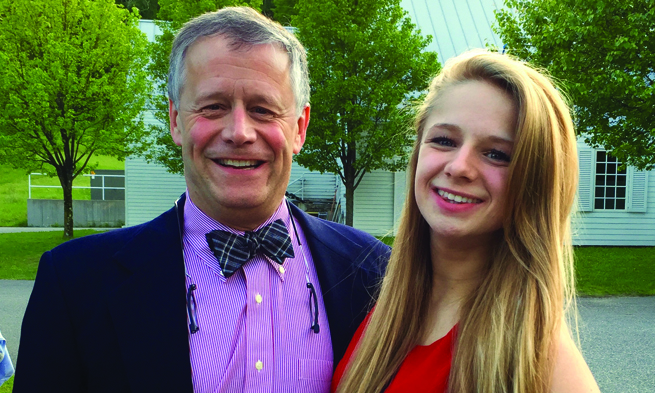 Stuart has an added reason to come to JMU these days. His daughter, Christie, is a freshman theatre major. An actor, Christie worked on many shows in high school with her dad as the lighting designer. We were always the "daddy-daughter team," reveals Christie. "It makes me really happy that he can come to JMU to do what he loves to, but that I can also have him nearby to be part of my college life." It's a college life with a rich family history.
Published: Tuesday, July 25, 2017
Last Updated: Wednesday, August 9, 2017