College of Visual and Performing Arts
Faculty Feature: Shane O'Hara
---
Dance Faculty Member Wins Provost Award for Excellence in International Education
By Jen Kulju (M'04)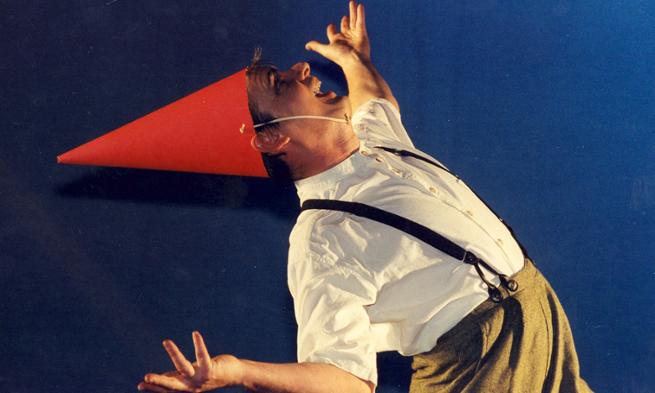 Shane O'Hara was bitten by the international bug while in graduate school for dance at Arizona State University. When an alum relayed an opportunity with a small dance company in Greece during his second year at ASU, O'Hara jumped. He took a semester off and spent five months working on pieces and performing in summer festivals around Athens.
O'Hara's first chance to work internationally has been followed by many others. A year after returning from Greece, he spent a month-and-a-half teaching classes and performing in Japan. O'Hara worked professionally in Philadelphia for four years before landing his first teaching job at the University of Alabama in 1989.
"It isn't about making money or gaining fame. It's really about making connections with other international artists and knowing that the sharing benefits everyone."
While at the University of Alabama, O'Hara applied for a Fulbright scholarship, which he was awarded for the spring of 1994. By that time, O'Hara had moved on to JMU, who supported a trip to Portugal made possible by the Fulbright. O'Hara says his connection to Portugal came while in graduate school—and that international dance work in general is "really about connecting with the people." 
After returning from Portugal, O'Hara travelled to Poland with fellow dance faculty members Kate Trammell and Cynthia Thompson. O'Hara also reached out to the Office of International Programs (oIP) at JMU, where he learned about its study abroad programs. O'Hara submitted a proposal and was selected to run the eight-week JMU Semester in London Program. That program later morphed into the London Intensive on Contemporary Dance and Performance, a 25-day trip for intermediate to upper-intermediate level contemporary modern dancers, consisting of rigorous training, and exposure to cutting-edge performance work and cultural sites of the city.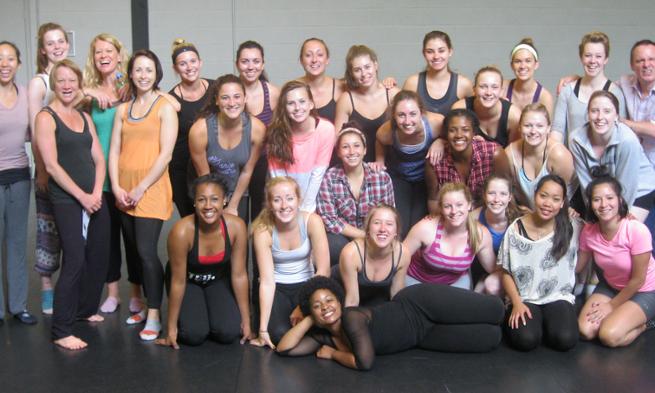 O'Hara and 22 students participated in the 2014 London Intensive.

O'Hara, who began teaching at JMU in 1992, ran his eighth Intensive this past summer, and considers the program a highlight of his time at the university. "It is an integral part of our recruitment and promotion. Plus, I see how it changes the students. They come back and make work they weren't making before."
In addition to the Intensive, O'Hara is proud of the Sichuan Dance Project, a 16-day cultural dance exchange he created between JMU and four schools in the Sichuan Province of China. Eleven students from the Dance Program participated in the exchange in May 2013, marking "one of the first times JMU has sent an arts group to China," says O'Hara.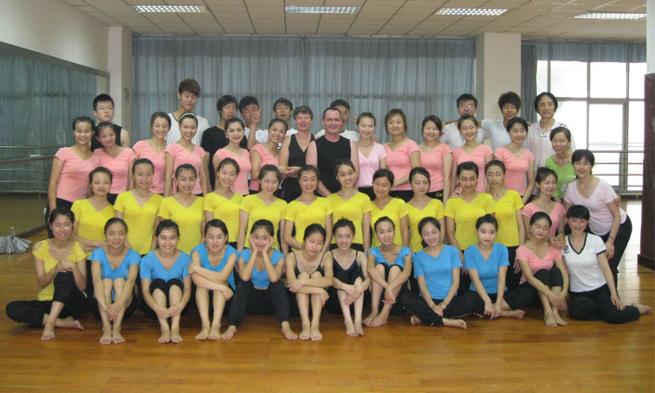 The JMU Sichuan Dance Project is opening doors for global relationships for many years to come.
O'Hara adds that his work has changed over the years, and that his international work—especially the London program—has helped him stay current in his teaching and training. He has performed the solo works of pioneer choreographer Daniel Nagrin for many years; that work has helped to shape his own, which reflects "a dedication to the moment all the way through the dance, whatever that moment is at the time."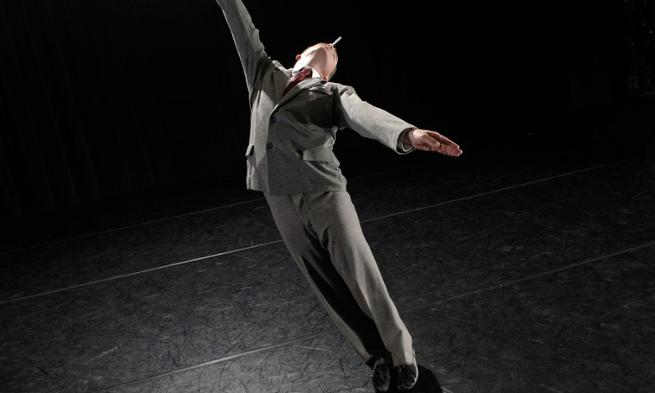 O'Hara will perform solos by modern dance pioneer Daniel Nagrin in the MAN-SPEAK-DANCE concert at the Forbes Center in January.
O'Hara ties performing back to teaching. "It's interesting how being a performer is connected to being a teacher." O'Hara recently received the 2014 Provost Award for Excellence in International Education and was selected for the Fulbright Specialist Program, which will allow him to continue his international work in two counties for six months within the next five years. He is reconnecting with contacts in Portugal and will work in Brazil. During a prior exchange in the South American country, O'Hara recalls doing a four-day workshop with actors, a scenario different than what he expected. "When you do international work, you have to be totally open to being flexible," relays O'Hara. "The ability to adapt and be in the moment is essential as a performer and a teacher."
O'Hara, the longtime director of JMU's Virginia Repertory Dance Company, has also had to adapt his teaching style due to injuries over the years. He tore his Achilles tendon in 2012 and had to choreograph from a chair. "You're not going to make millions of dollars teaching and creating dances, but you will get an incredible collection of life experiences—and one of them is physical," expresses O'Hara.
"Through dance, you're experiencing things that don't need words."
Fortunately, however, dance is able to transcend physical and even language barriers, which are often present in international exchanges. And those international exchanges don't just involve O'Hara travelling abroad, but faculty from other countries coming to JMU to host workshops as well. "It's about facilitating the exchange," reiterates O'Hara, who also finds it encouraging that the new Madison Plan calls for 25 percent of students to have international experiences. "Students get a whole different perspective when they're exposed to new views on dance here or overseas. But studying abroad forces students to pay attention to the world around them."
Published: Tuesday, July 25, 2017
Last Updated: Wednesday, August 9, 2017