College of Visual and Performing Arts
A Season of Giving to JMU Arts
---
The semester is coming to a close, but the holiday season is ramping up—and opportunities to give to the arts at JMU abound. Dedicating a seat at the Forbes Center is one way "to commemorate a special person or leave a legacy," says Cynthia Cline, director of development for the College of Visual and Performing Arts.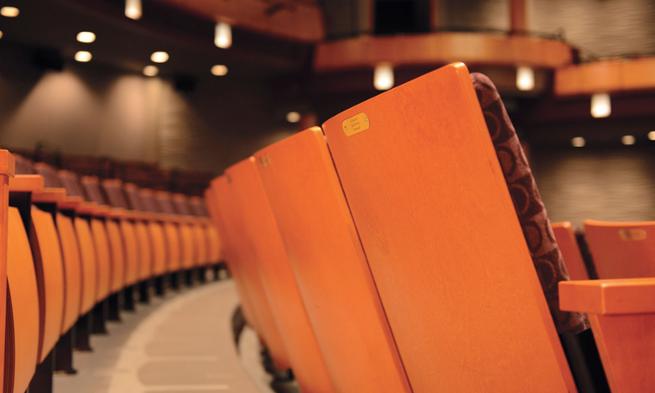 According to Cline, seat dedications began as part of the Madison Century Campaign prior to the opening of the Forbes Center in 2010; prospective donors were invited to "name a seat" to raise scholarship funds for performing arts students. So far, 200 seats have been dedicated in the Concert Hall (out of 600) and 109 have been dedicated in the Mainstage Theatre (out of 350). Donors have named seats for students, faculty or family members, and patrons of the performing arts. "It is a great way to honor members in the community, birthdays, anniversaries and holidays," adds Cline.
"It is a blessing to receive scholarship funding as a musician." - Danyel Reid (M'16)
The phrase, "starving artist," is common in the arts—and funds from the seat dedications go directly to student scholarships in the School of Music and School of Theatre and Dance. Cline says that the funding is critical for providing access to the diversity of talent needed to "stage a show, field an orchestra, and recognize the hours of practice required to master vocal, dance, instrumental and acting pursuits." Each department receives an equal portion of the scholarship money.
If you are interested in purchasing a seat this holiday season, you can use the online gift form at http://www.jmu.edu/give/where-to-give/visual-performing-arts.shtml. One seat is $1,000 and two seats are $1,500. Plaques typically take two to four weeks between the time of purchase and actual installation.
For more information about naming a seat or to inquire about other giving opportunities in the arts, contact Cynthia Cline at (540) 568-3195 or clinecd@jmu.edu.
Published: Tuesday, July 25, 2017
Last Updated: Wednesday, August 9, 2017