College of Visual and Performing Arts
Madison Scholar Exhibits Dance Photography at Forbes Center
---
By Jen Kulju (M'04)
An Eye for Opportunity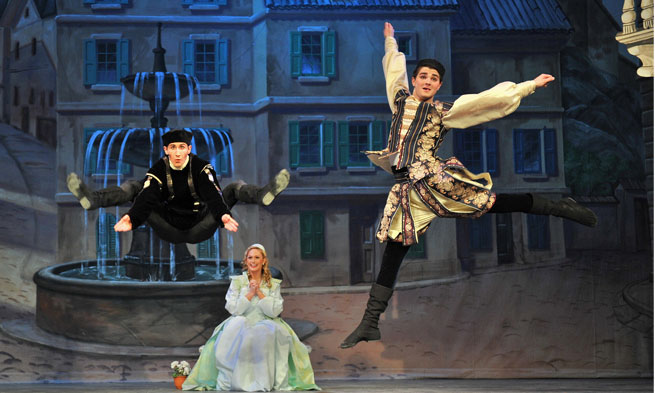 James Madison University School of Theatre and Dance faculty member Richard Finkelstein says his life has been a little like that of Forrest Gump. "Things happen to me that are amazing and by accident," shares Finkelstein, who was named the 2015-2016 College of Visual and Performing Arts' Madison Scholar in his 13th year at JMU.
A native of the Chicago area, Finkelstein grew up acting and dabbling in photography. Finkelstein says he looked up to his mother, who had been a student at Goodman Theatre. His grandfather had been an inventor and artist, and his father encouraged him to participate in "darkroom work" starting in the fourth grade. Finkelstein continued film photography throughout high school in Baltimore, taking theatre and dance photos while working as an actor with the Baltimore Actors' Theatre. "That's where it all started," recalls Finkelstein, whose pictures were published by The Baltimore Sun.
Early success and a passion for photography led Finkelstein into color work as a hobby while majoring in English at Wilkes College (now Wilkes University) in Wilkes-Barre, Pennsylvania. Majoring in Theatre was not an option at Wilkes, but Finkelstein studied ballet, movement and mime on his own time. It was at Wilkes that Finkelstein met Broadway lighting designer Klaus Holm and his mother Hanya, one of the "Big Four" founders of American modern dance. Her Labanotation score for Kiss Me, Kate (1948) was the first choreography to be copyrighted in the United States.
Finkelstein strived to further his arts repertoire by working at a dance theatre company in Wilkes-Barre. Finkelstein also decided he wanted to move from simply studying ballet to seeing it live, so he hopped a bus to the "Big Apple" to see the New York City Ballet. He arrived on the eve of Stravinsky's 100th birth anniversary, which according to Finkelstein, may have been NYC Ballet's greatest moment in history. Finkelstein would return weekly for these performances, which he says changed his life. Years later, he would have the opportunity to see Mikhail Baryshnikov's debut with the NYC Ballet at its summer home at the Saratoga Performing Arts Center, where Finkelstein was designing a show.
Finkelstein took photographs primarily for dance posters in college before putting the hobby to a decade-long rest to focus on stage design. Finkelstein earned a graduate degree in stage design from Carnegie Mellon University and went on to teach at a number of universities before landing his teaching position at JMU in 2002.
A Return to Photography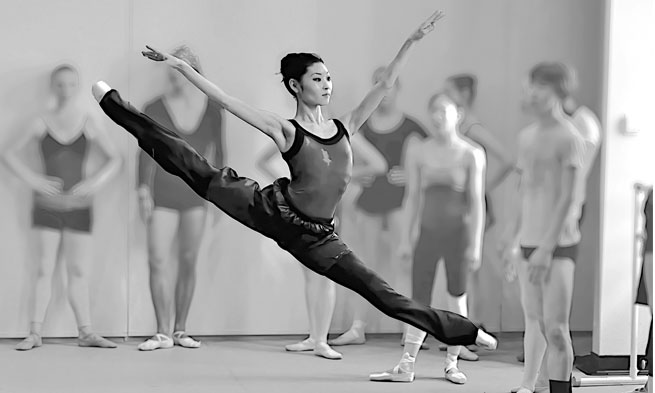 Finkelstein returned to photography in 1986, when he began working for the USA International Ballet Competition. He has served as their official photographer since 2006. Finkelstein has also taken photos for JMU's School of Theatre and Dance since arriving on campus.
Finkelstein says the biggest game changer in photography has been the introduction of digital technology. "It allows for instant feedback, so adjustments can be made on the fly." As for dance photography, according to Finkelstein, "it's like a sport in that it requires good eye-hand coordination." "I was always terrible at sports, so I've been thrilled that I have, in essence, a sport that I'm good at…" Finkelstein adds that dance is based on architecture and that dancers form poses that fit geometry. "Because I'm a designer, I can spot those [poses]." 
JMU Dance Photography Exhibition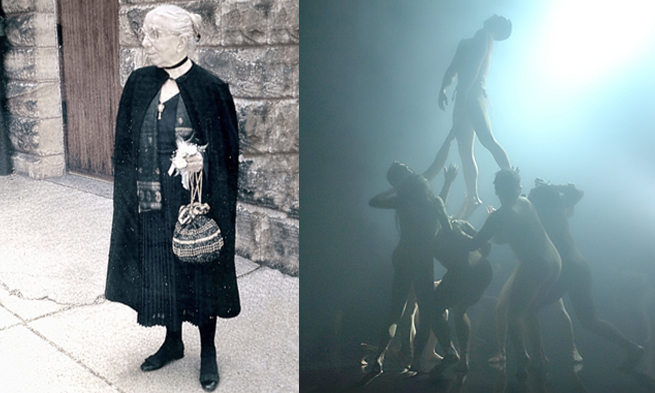 Finkelstein is exhibiting a retrospective of his dance photography from April 1-April 29 at the Forbes Center for the Performing Arts. The exhibition, entitled Steps in Time – Reflections on Dance in Four Dimensions, spans four "dimensions" of dance, and features many important 20th and 21st-century dancers from across the globe.
The exhibition begins with portraits of dance pioneers, including Hanya Holm, as well as Gemze de Lappe, who originated the role of Laurie in the ballet sequences of Broadway's Oklahoma in 1940. Also included is Finkelstein's photo of Martha Clark's famous work, Garden of Earthly Delights.
The second dimension covers current dance greats from companies including the American Ballet Theatre, Britain's Royal Ballet, and the National Ballet of Japan, to name a few.
The third dimension highlights JMU students (and faculty), those to whom the future of dance holds great promise.
The fourth and final dimension is derivative artwork, kaleidoscopic and virtual images that depict dancers in positions beyond the bounds of ways the human body can move.
Note: The exhibition is free and open to the public. It is being held in "The Interlude" Mainstage lobby of the Forbes Center, and is available for viewing Monday-Friday, 10 am-5 pm.
Photos by Richard Finkelstein include Kiss Me Kate at the Forbes Center (top), Maki Onuki of the Washington Ballet in a company class at the 2010 USA International Ballet Competition in Jackson, MS (middle), and Hanna Holm/Martha Clark's Garden of Earthly Delights (bottom).
Published: Tuesday, July 25, 2017
Last Updated: Wednesday, August 9, 2017